Peak season versus it`s all for the plot
It`s me! Hi!
What started as a funny idea at Christmas turned into a multi-season show with pretty pictures. How are we already 30 episodes into this script? And finally we also got to see the third season of Emily in Paris. So how did Emily decide? Well, she did not decide at all, did she? And what did we learn? Not choosing is still a choice.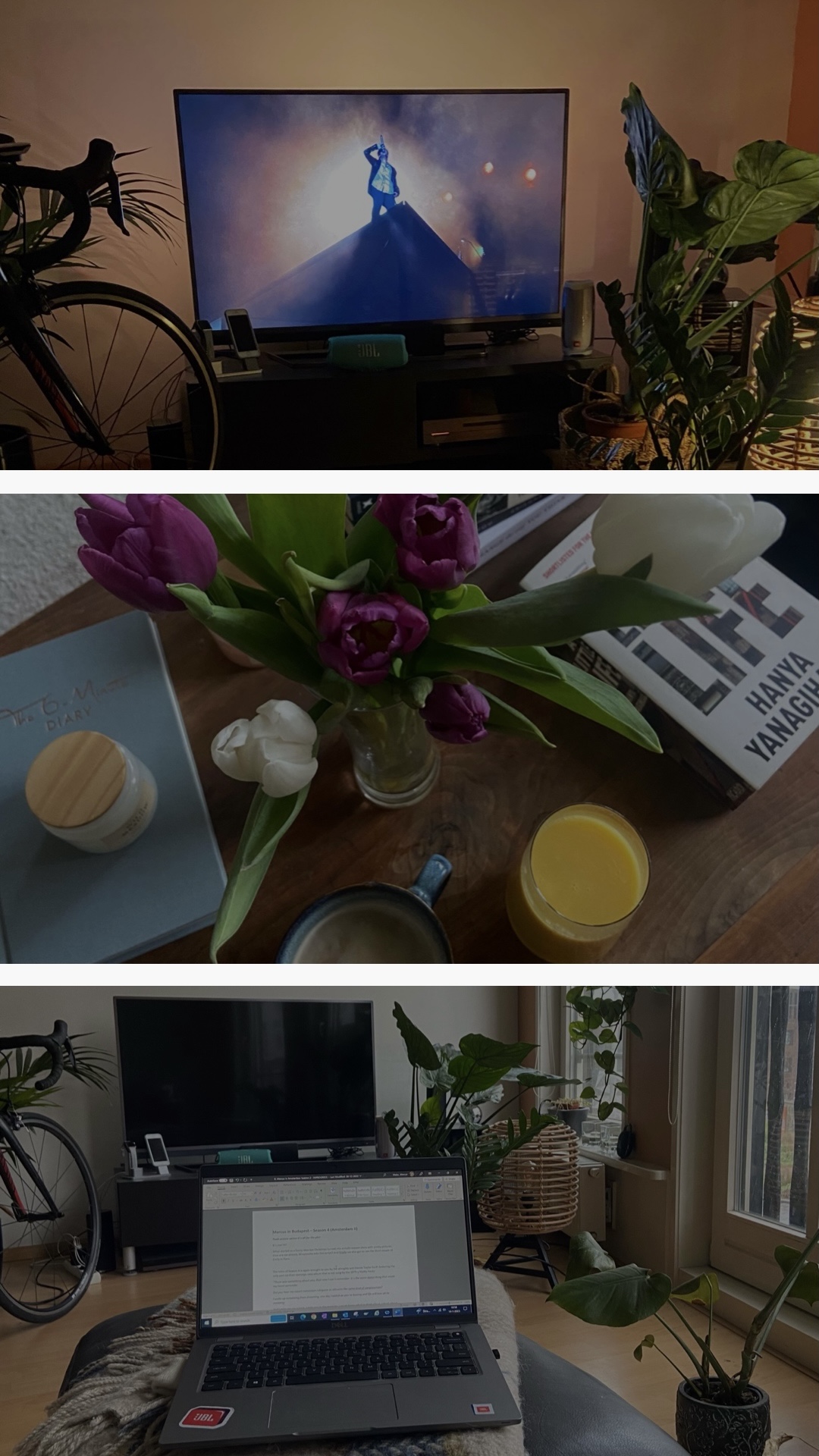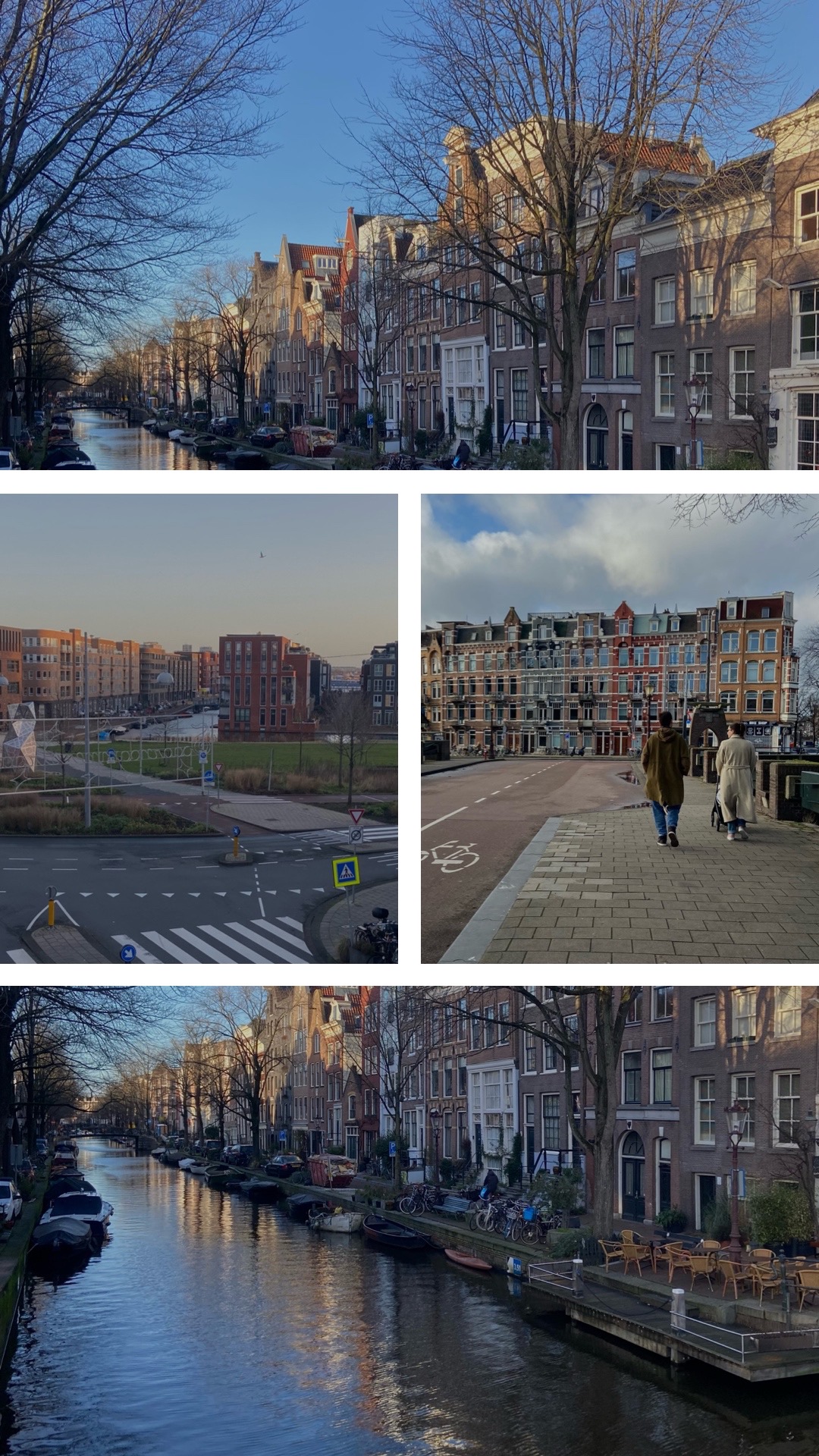 Emily started to work at two places at the same time, because she did not have the guts to tell her boss she is leaving. Or maybe she was just telling this to herself to calm her mind and justify her indecisiveness. Because in the end the shine of working for Sylvie was better than the reality.
Of course working at two marketing companies in the same city and projects did not have a long life expectancy. And as we are still in the Netflix universe, her decisions impacted her love life too and came with a tearful break up and hairstyle changes. Back to the real universe, back to Amsterdam.
The Intro of Season 4 is again brought to you by the almighty anti-heroic Taylor Swift featuring the only part on their nostalgic new album that is not sung by the 1975-y Matty Healy:
"There was something about you, that now I can`t remember. It`s the same damn thing that made my heart surrender.
Did you hear my covert narcissism I disguise as altruism like some kind of congressman?
I wake up screaming from dreaming, one day I watch as you`re leaving and life will lose all its meaning
And I miss you on a train, I miss you in the morning. I never know what to think about. I think about you"
Taylor on stage of the 1975 concert in London on January 12 was my highlight of the decade – just saying.
31. The City of Angels
Los Angeles – City of Angels. They say if you can make it here, you can make it anywhere. Wait no, that was New York City. Did I make it to LA though?
After not being able to visit the US during Covid I was really looking forward to going back. Once I had my ESTA approved for future business travels I made a more or less spontaneous decision and booked cheap flights from Amsterdam to New York City and from New York City to San Francisco one night. The most expensive part is the accommodation, right? So I did not book any. I left it to fate how and where to spend my nights.
Well not completely. I booked a camper van for the days in California and my flights mostly were during the night so I could sleep on the airport/plane (very bad decision, I did not sleep one minute there). And before I could think twice I was standing at Newark Airport immigration. A bit nervous because I did not know how Covid impacted the immigration process, if they would let me in with my vaccinations and without having an address to stay in the US other than my camper van rental company in San Francisco. Took me two minutes to go through immigration. What the hell?
And then I was in New York City. Like I never left in 2019. There are no words to describe the feeling of coming out of the subway and walking beneath the old & new skyscrapers of NYC. Not even trying to. I visited One Vanderbuilt, the Edge, Cornelia Street and Little Island. I said it before, I say it again. This city always comes up with something new to discover.
Before heading to JFK for my flight to SF I walked across Brooklyn Bridge and spotted strange lights in the sky. That`s when I realized it was 9/11. For the first time in my life I saw the impressive lights of the former World Trade Center shining almost endlessly into dark space. Two beautiful blue Twin Flames rising above a building shimmering in the colors of the Ukrainian flag.
What a magical night. New York City taught me that night that no matter what happens to you, you are strong enough to survive it and come out of it stronger than before.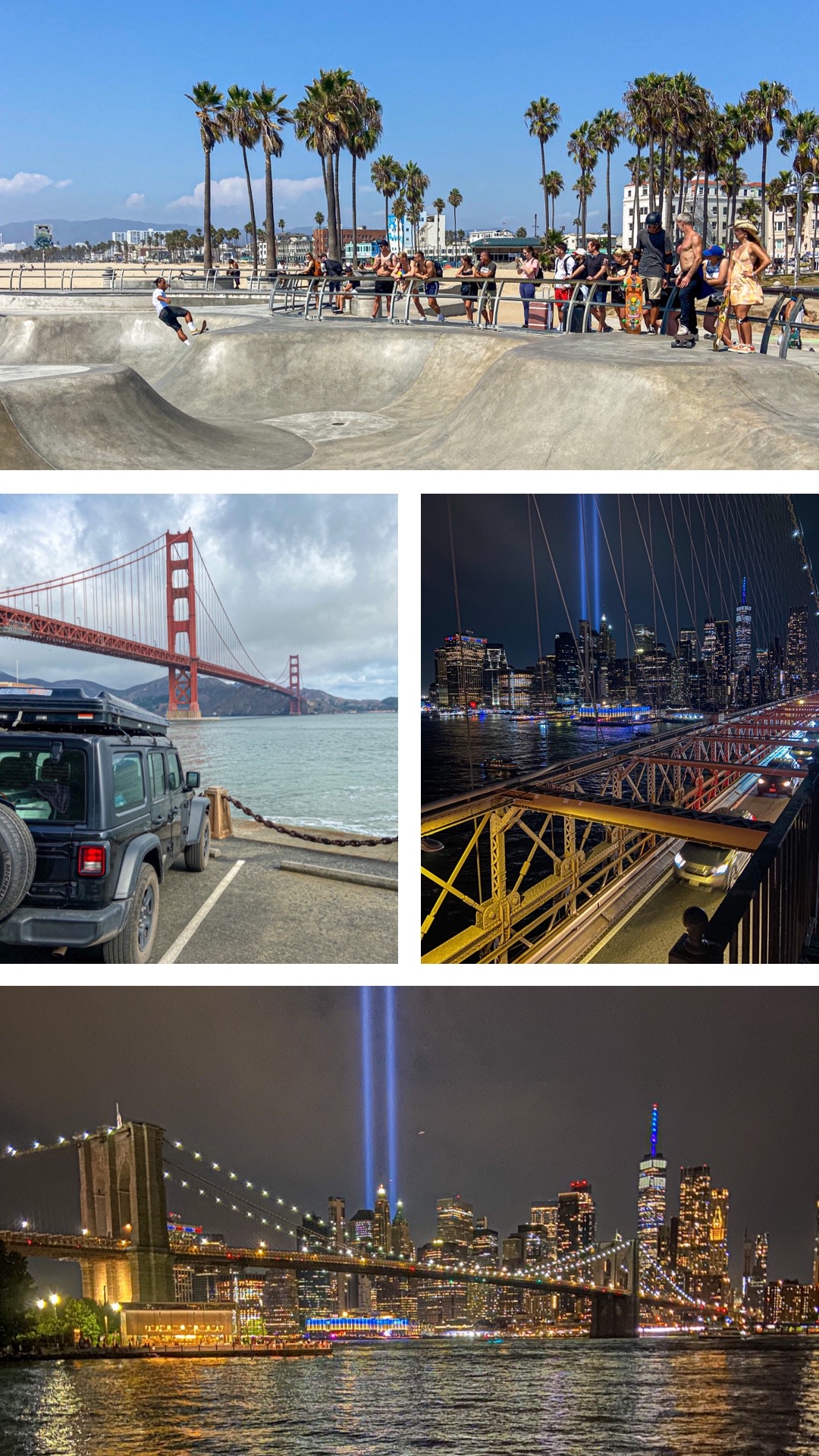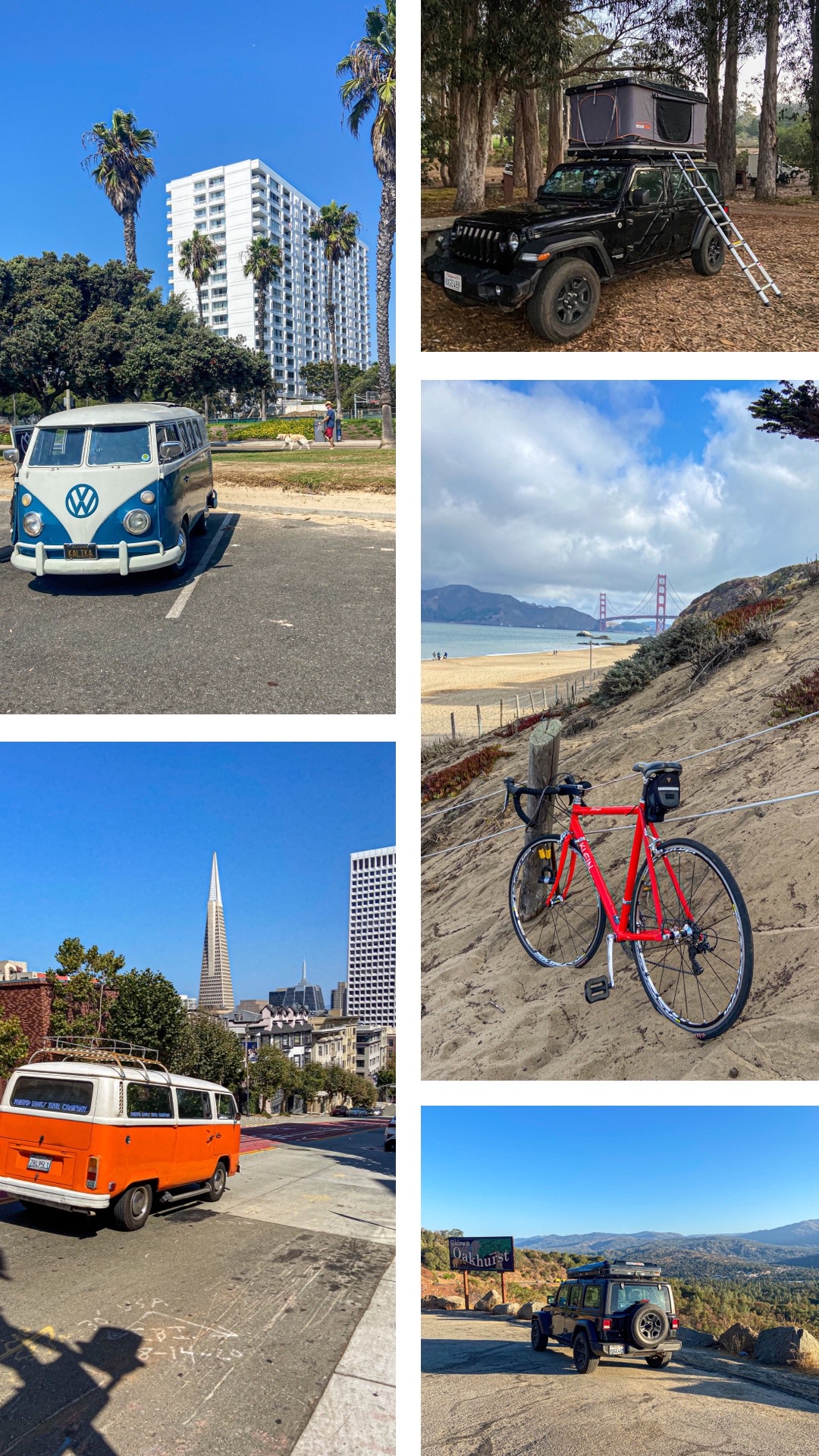 Next time I opened my eyes I was walking through San Francisco. My favorite city in the world since I first visited it in 2009. Luckily I met someone in Budapest who moved there few months ago, so I had a place to crash for the night before getting my camper van.
Was it the weather, or just time that passed by. But San Francisco did not live up to the memories I made back in 2009. Maybe I was too young back then. Or I have visited too many beautiful places since then. It is still one of my favorite cities in the US, but not my number one anymore. I guess these rankings change as you grow older and evolve.
I was road-tripping down the Highway One in my Jeep Wrangler with rooftop tent. Carmel, Santa Barbara and Malibu within one day. And then I stumbled through Venice Beach. Like Jess did after he left Stars Hollow. I remembered this place from 2009. My favorite part of LA. Because it is so antagonistic to the rest of the city. Long story short. As soon as I drove into LA, I smelled a very bad vibe. Which was enforced by the endless traffic jam up Santa Monica Boulevard to Griffith Observatory.
After a brief look over the smoggy skyline I decided to leave LA again on the same day. Another traffic jam into Northridge, thirty minutes at In-and-out Burger, a visit to my companies office and I was sunset-rushing out of the endless concrete jungle into the mountains. I almost drove through the night up to Yosemite before I crawled into my rooftop tent to sleep.
My favorite part of the road trip were the mountain roads in the Sierra Nevada. The last days in California I spent in Half Moon Bay close to San Francisco. A cute little town like Stars Hollow with an endless beach formed like a half moon. The campsite was directly at the beach. Writing names in the sand. Time to say goodbye.
On my return flight I stopped again in NYC. Used my remaining Marriot Bonvoy points to check into a Moxy downtown. Thanks to my platinum elite status I was upgraded to a room with views over the Brooklyn Bridge. The last day in the US I spent exploring West Village and Downtown.
The vibes are very similar to Amsterdam down there – they called it New Amsterdam at some point in history, did you know? Now you do. Monday 8am my flight arrived in old Amsterdam. At 10am I started working. Everything worked out as planned. Thanks universe.
32. The Park Situation
Parking in Amsterdam would be an amazing title for a horror movie. There are many free parking spots, but you have to pay brutal fees for it. So whenever I get a visitor here with car, we park it in Amsterdam Noord, outside of the area with parking fees. It`s about thirty minute walk and a short ferry ride to my apartment. But it is free, so it is worth it. Amsterdam is a bicycle city for a reason.
And apart from the car parks, there are real parks in Amsterdam too. The holy triangle: Westerpark, Vondelpark and Rembrandtpark. And the hidden champions Sarphatipark, Beatrixpark and Oosterpark. I tried to see all of them in my first six months in Amsterdam. But most of my time I spent around Westerpark, just because it is close to my flat and less touristy. Therefore it is also my favorite.
Westerpark, like the name already says is located in the western part of Amsterdam, between Jordaan, Spaarndammerbuurt and Staatsliedenbuurt. I separate it into three parts. The smaller part east of Conscious Hotel with walking paths around the pond, the main part with the huge green field, the refurbished factory buildings and the largest part in the west which is mainly covered by little huts and gardens (Tuinpark).
There are some great locations in this park, a light museum, a nightclub in a silo, the Pacific pub, a coffee bar and a couple of restaurants. This park basically has everything you need for the whole weekend. And great areas to walk your dog. Maybe I`m biased, but Westerpark is my number one place to spend time in Amsterdam.
33. The Fall of Amsterdam
My favorite season is and always will be fall. Why? Maybe because my birthday is in October. Maybe because it is the season that shows you how beautiful it can be to let go. But most likely because I can never get enough of the amazing fall tree colors and cozy Gilmore Girls vibes. And as much as I admired summer Amsterdam, the fall colors just added a perfect note. I could not stop taking photos of the golden tree alleyways alongside the canals.
Fall in Amsterdam is Marathon time. As I had to support a colleague running her first marathon I found myself surrounded by thousands of Marathon runners one morning. Luckily I was only a spectator. Running is not my thing. It was the first time I saw the "I AMSTERDAM" sign since 2019. The marathon track combines some nice streets through the city, but also more green parts in parks and outside of Amsterdam. The weather was rainy during the weekend, but right before the start the sun came out and Amsterdam showed itself from its best side.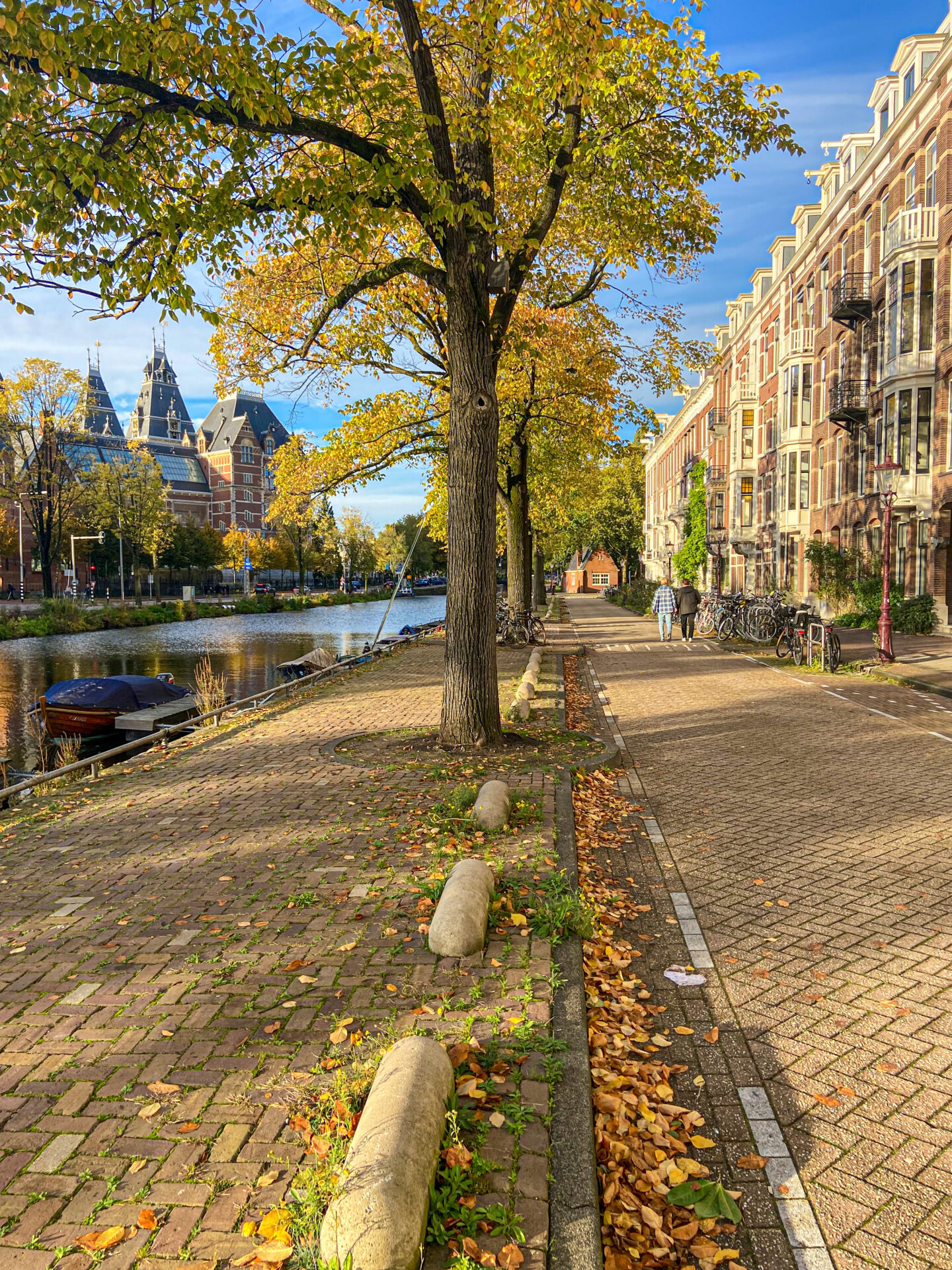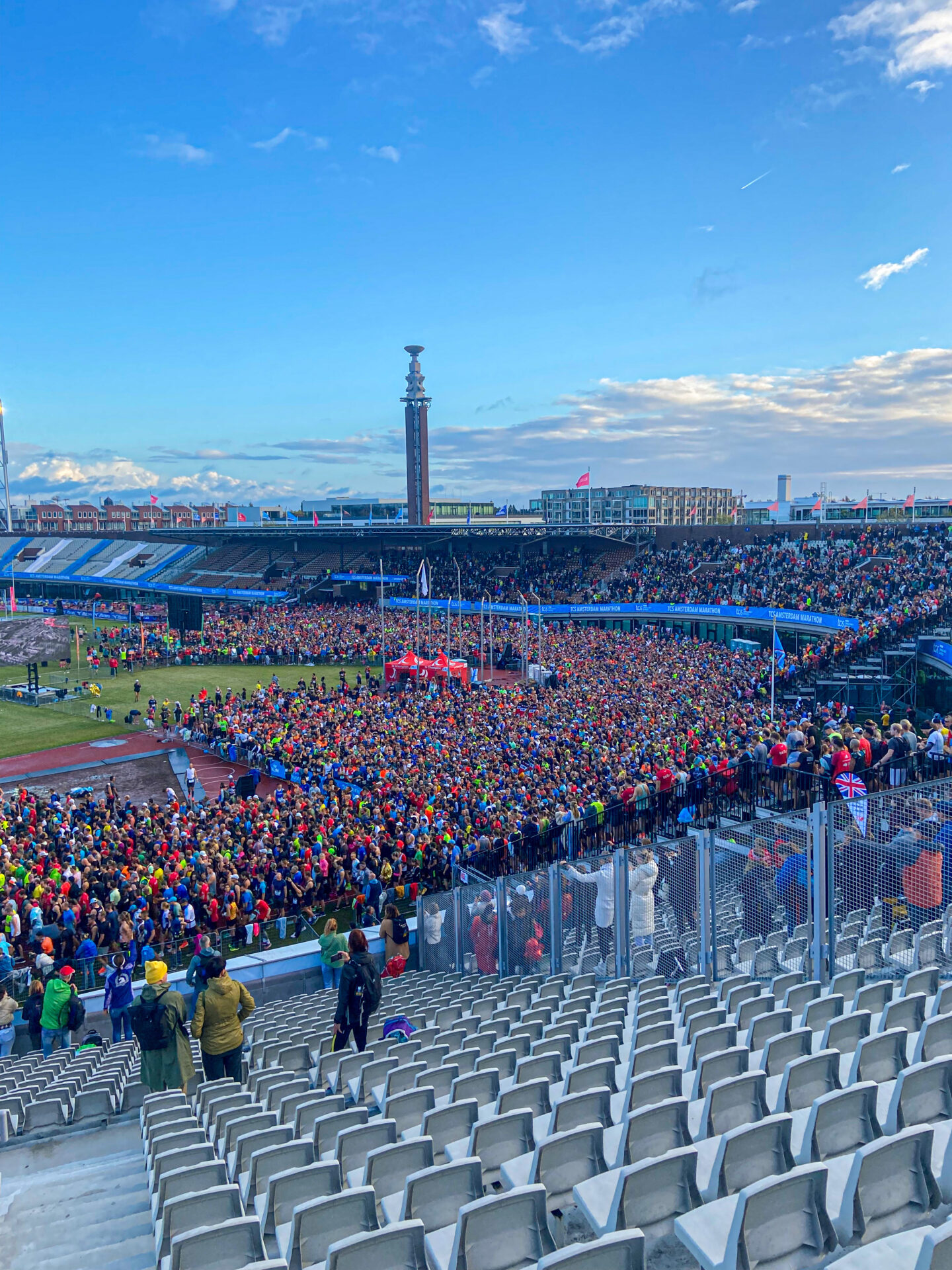 During this time I also went to the tour concert from Machine Gun Kelly. Since he is working with Travis Barker he has grown into one of my favorite music acts. 2020 when I was going through a very dark time his album carried me through some of the darkest nights.
---
Monday October 12, 2020. The day I got robbed of my safe little world and peace. I remember listening to Tickets to my downfall. Music has saved me during my darkest times and always will.
"I believe that everything happens for a reason. People change so that you can learn to let go, things go wrong so that you appreciate them when they`re right and sometimes good things fall apart so better things can fall together."
Wednesday October 12, 2022. On the exact day two years later I`m listening to these songs again. Live. During one of the best concerts I have ever seen…realizing that after a long and exhausting journey I finally arrived at the place I was meant to be and where I belong.
"Sometimes the things that you lost get replaced. Sometimes the letting go is just making space"
---
This experience closed a very difficult cycle for me. I realized that the place I am meant to be is not a physical place. It is not Budapest, Amsterdam or somewhere else. It is within me. And since I have found this place, it does not matter where I am. Or with who I am. I can always create this place within me.
34. The Hunt of the Flats 2.0
My flat here in Amsterdam was a temporary rental. Until end of January. So unfortunately soon after settling in I had to enter the infamous Amsterdam housing market again. Living close to the city center definitely is not cheap. It is almost impossible by now to find a flat below 2.000 EUR rent. And even then you are competing with many other applicants at the same time. The situation is definitely enforced by the expat tax advantages which allow many people moving to Amsterdam paying higher prices than they would in their home country. I can understand that local Amsterdam inhabitants do not support it.
I managed to get a few flat visits. But most of the time when I wrote an email expressing my interest I just got the response that they already have enough applications and are not accepting more (just one day after the offering was put online). And after visiting on-site you have to put together your application, including three month payslips, work contract and who knows what.
The process and demand is the same if you look outside of Amsterdam. It gets a bit cheaper, but you still compete with almost hundreds of other applicants. And then you have to bring your own floor to the new apartment. Fun, right?
While I was thinking about how to manage finding my new flat by end of January and how my plan B could look like, I got a message from the owner of the flat I`m renting. He wants to spend some more time on Bali and will not come back by end of January. So I could stay in the flat until November, if I would like to. You know me well enough by now, that I see this as a sign from the universe to stay a little bit longer. So The Hunt of The Flats 2.0 turned out shorter than expected. Flat 1.0 equals Flat 2.0.
And maybe the universe will be able to save me again from The Hunt of The Flats 3.0.
35. The Dance of the Dogs
Asa is still on her world tour. After Asa in Budapest and Asa in Amsterdam she made it to another cool place in Season 4 – Asa on Mallorca. We`ll get to that later. She visited me again in Amsterdam during fall. And as we had to park our car in Amsterdam Noord, most of the time spent walking with her was to pick up the car. First time on a ferry boat for her. Not the last time that year.
Another first time was Asa at the beach in Zandvoort. On the weekend a lot of dog owners are walking on the beach. So we could take her of the leash and she had a lot of fun catching sea birds and dancing with other dogs. Her favorite place in Amsterdam is Westerpark. Isn`t it funny how all the previous episodes of this season merge here. But seriously, Westerpark is owned by dogs. They have their own little lane in the park separated from the main park. You cannot walk without meeting other dogs and dog owner.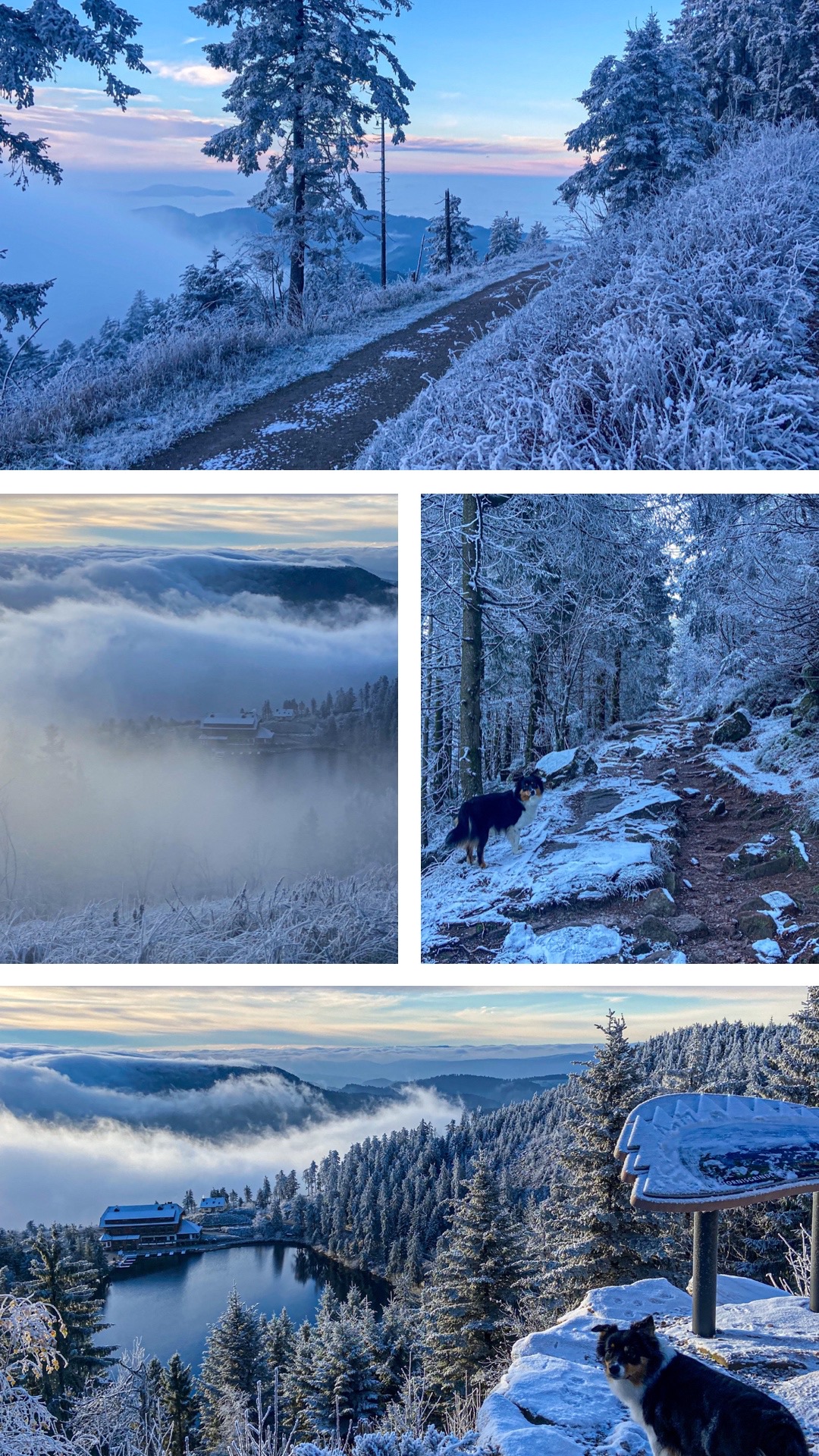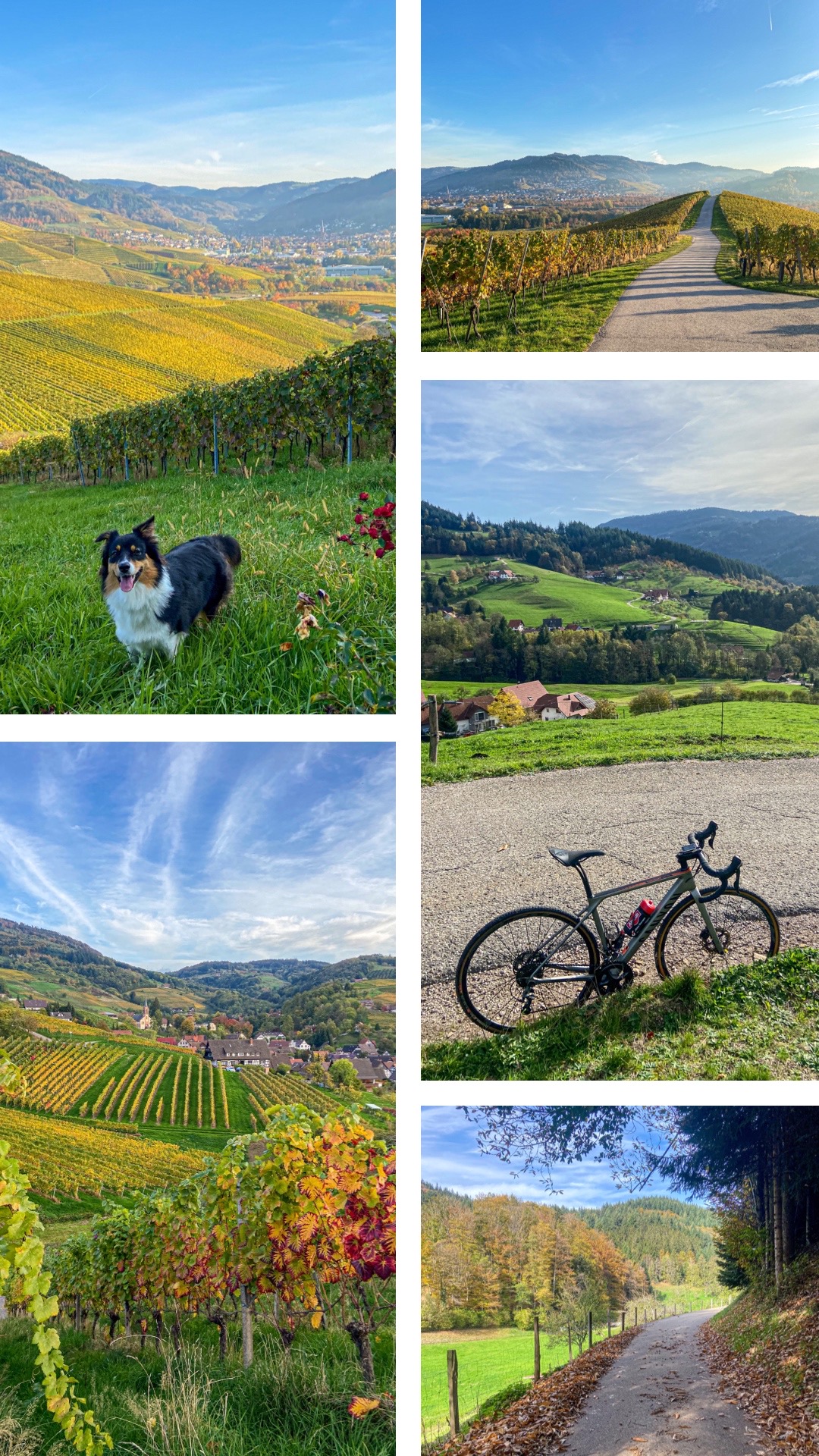 And I also spent some time back at home in Germany with Asa. Luckily during the end of November there was some snow in the mountains. I think winter is her favorite season. She just never can get enough of running through the snow. On a perfect winter inversion day I took my picture of the year. And I remembered why I could not live without mountains and snow in my life.
36. The Ghost of Houthaven
Houthaven – the black-mirroresque district in Amsterdam I call my home for this year. It is not a big part of Amsterdam, and there are not many things to do. But it`s a completely newbuilt area and just so cool to walk through. An old harbor and shipyard from the past has been re-built into a combination of office and living area. Directly at the IJ river, with artificial canals and picturesque architecture.
Every corner has a specialty to see. Houses that look like the Transformers. The old ship crane transformed into a restaurant with rooftop. A hotel like a huge toilet seat. Another hotel with wooden promenade where hundreds of Dutch people dip in the river during summer. The Black Mirror facades of the office buildings. The purple shimmering Marriott hotel next to the PVH headquarter space station. And all surrounded by large cruise and industrial ships flowing back and forth the Amsterdam docks.
On the other side of the river you can spot NDSM. The coolest spot of Amsterdam with its street art museum, Anne Frank portait wall, The Walking Dead Ship-graveyard, Cannibale Royale and the Pllek city beach club. The ferry boat over the river is free for everyone. This is definitely the best place I have ever lived and worked in. You have to see it by yourself to understand.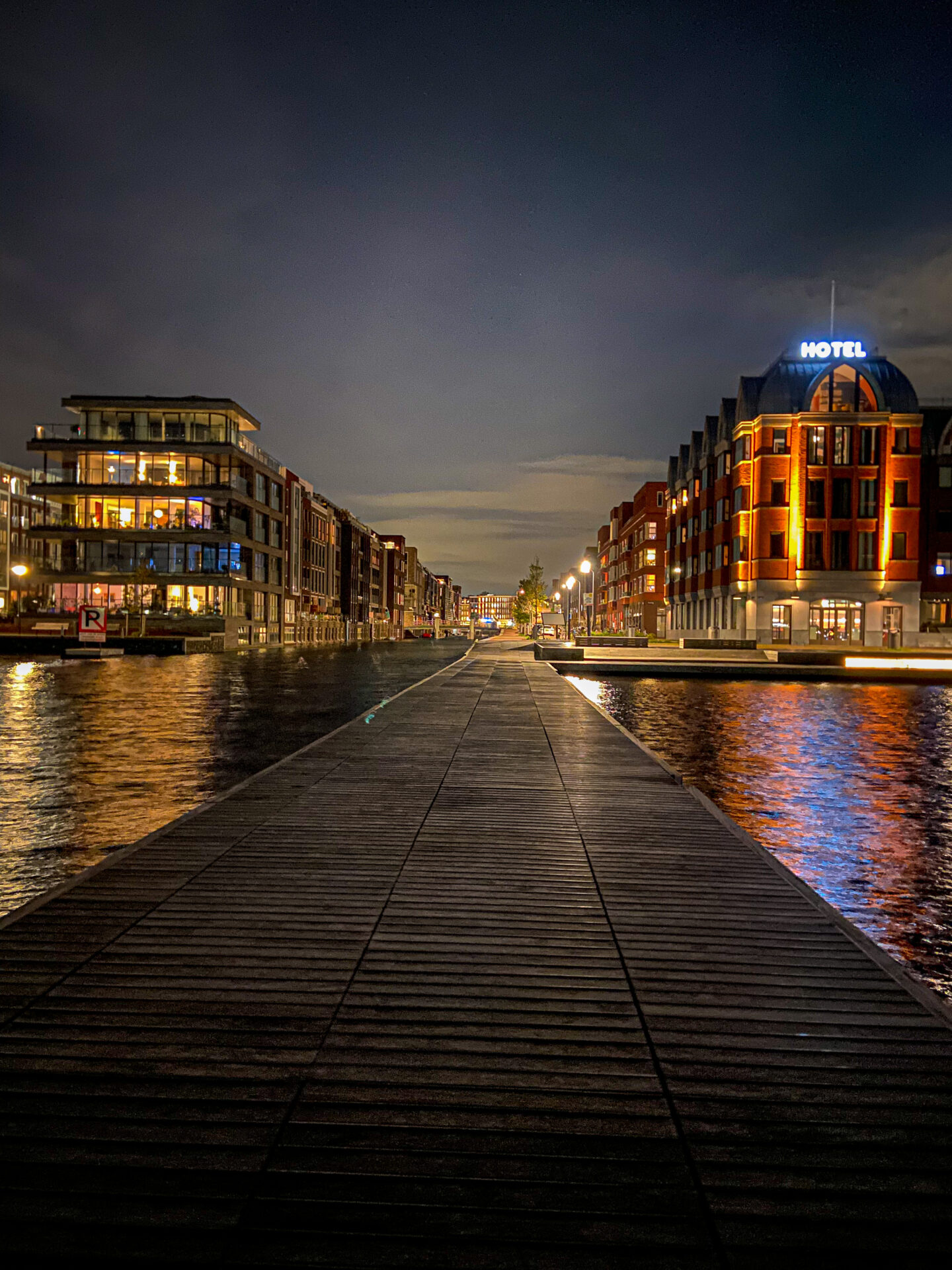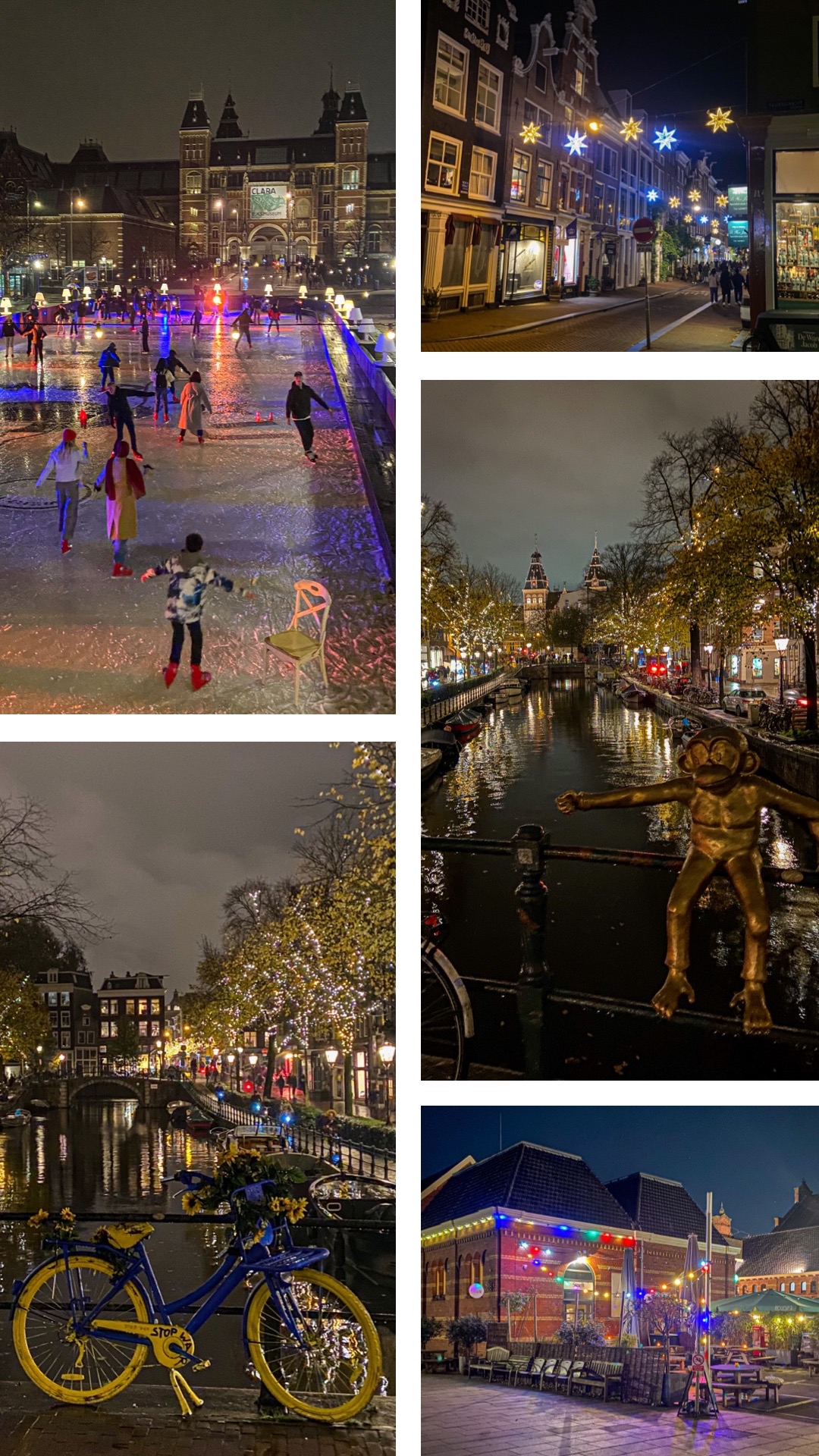 One time I had a visitor from my past here in Houthaven. I call it the Ghost of Houthaven. Is it a real, scary ghost you ask me? Well not really. At least not as scary as human beings can be. I called it my ghost because it was someone from the past that disappeared and stopped talking to me when I needed them the most. And even though the ghost had a small cameo role in Houthaven, it still remained a ghost.
And then I realized. I was wrong all along. That someone is not a ghost because they disappeared and stopped talking to me. That someone is a ghost because they never existed in the first place. Someone I made up in my head. Someone that was a ghost from the very first day. Once that realization came, I was finally able to let go of the Ghost of Houthaven. And guess what, my nightmares disappeared as well.
37. The Screaming Beans
Wake up! There is no better good morning than the sound of screaming beans. And I am still on the mission to find all the amazing coffee places across the city of Amsterdam. But let`s not rush it. Because once I have visited all, it will be time to move on to the next city on my list. So here are 8 more of my recommendations for coffee and bakery lovers:
Le Petit Deli – A bit hidden in the streets of Jordaan. Like the name indicates, it has a Parisian flair. The interior design is pretty pink. The bakeries are completely Instagram-able. Coffee is great. What else do you need?
Screaming Beans – The one that named this episode. I like the sound of screaming beans. With this name you can only get good coffee, right?
Arket – Fancy. It is a combination of shopping and coffee bar. Lot of influencers can be found here working. Very central.
OSLO – Another one in Jordaan. Norway is on my list to visit this year, so I may be biased by the name.
Scandinavian Embassy – Plus one Scandinavian named coffee shop. This one is in de Pijp, my favorite district for food and coffee in Amsterdam. Right next to the Sarphati Park. There is so much more to discover in de Pijp, hope I will have the time to do so.
Café de Ceuvel – And here one on the other side of the river in Amsterdam Noord. Fits into the vibes of Noord. More alternative setting and great outside seats during summer. Not just a good spot for coffee, also to eat and drink in the evening.
Uncommon – Close to Museumplein and Vondelpark. Nice interior and coffee. Good breakfast spot while exploring the city or taking a break from museum visits.
Coffee District – Not too far from Uncommon, on the upper east side of Vondelpark. I never managed to get into this coffee shop because there is always a huge line of people standing outside. But I guess that is a good indication, so try it out and let me know your feedback.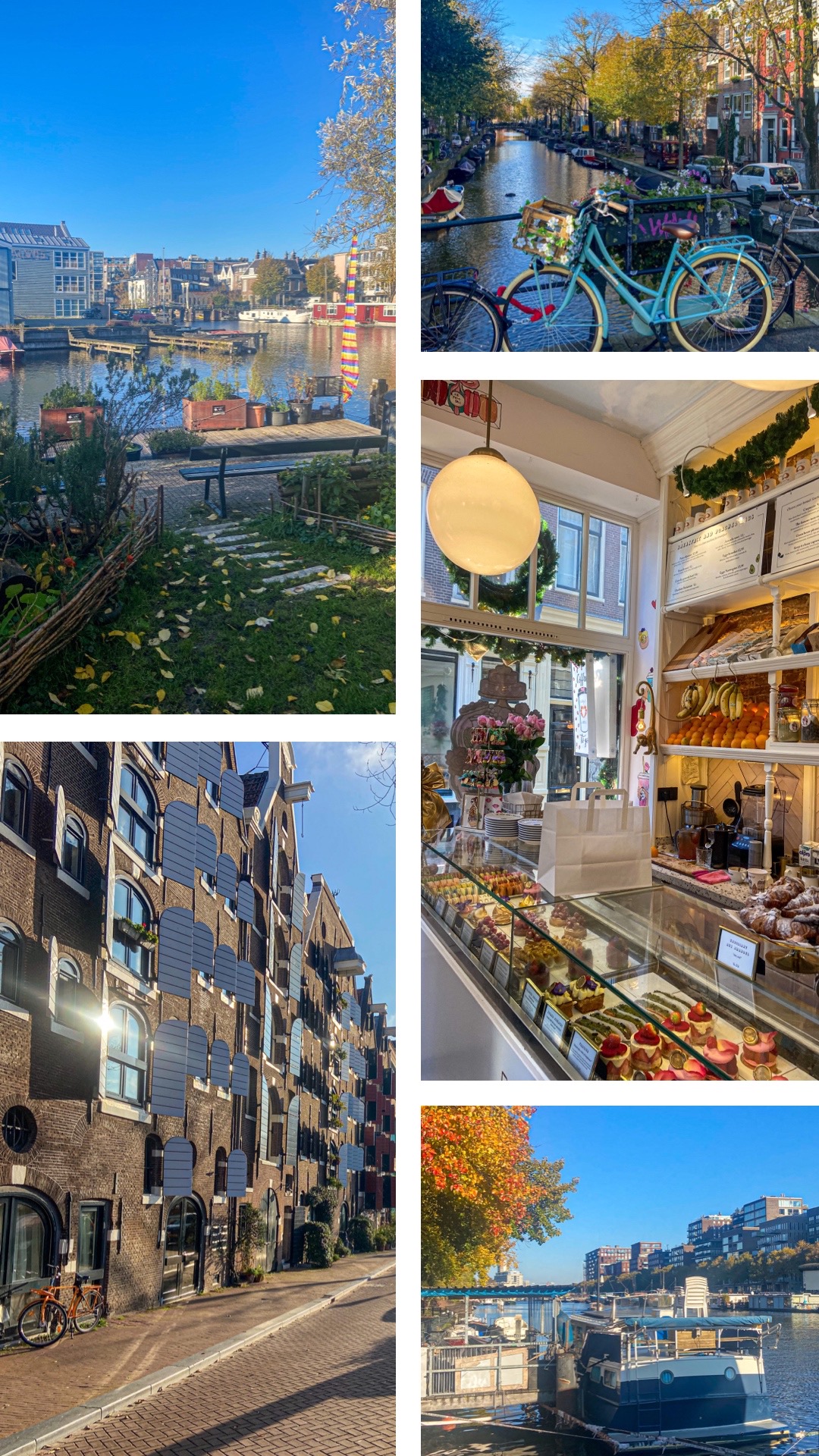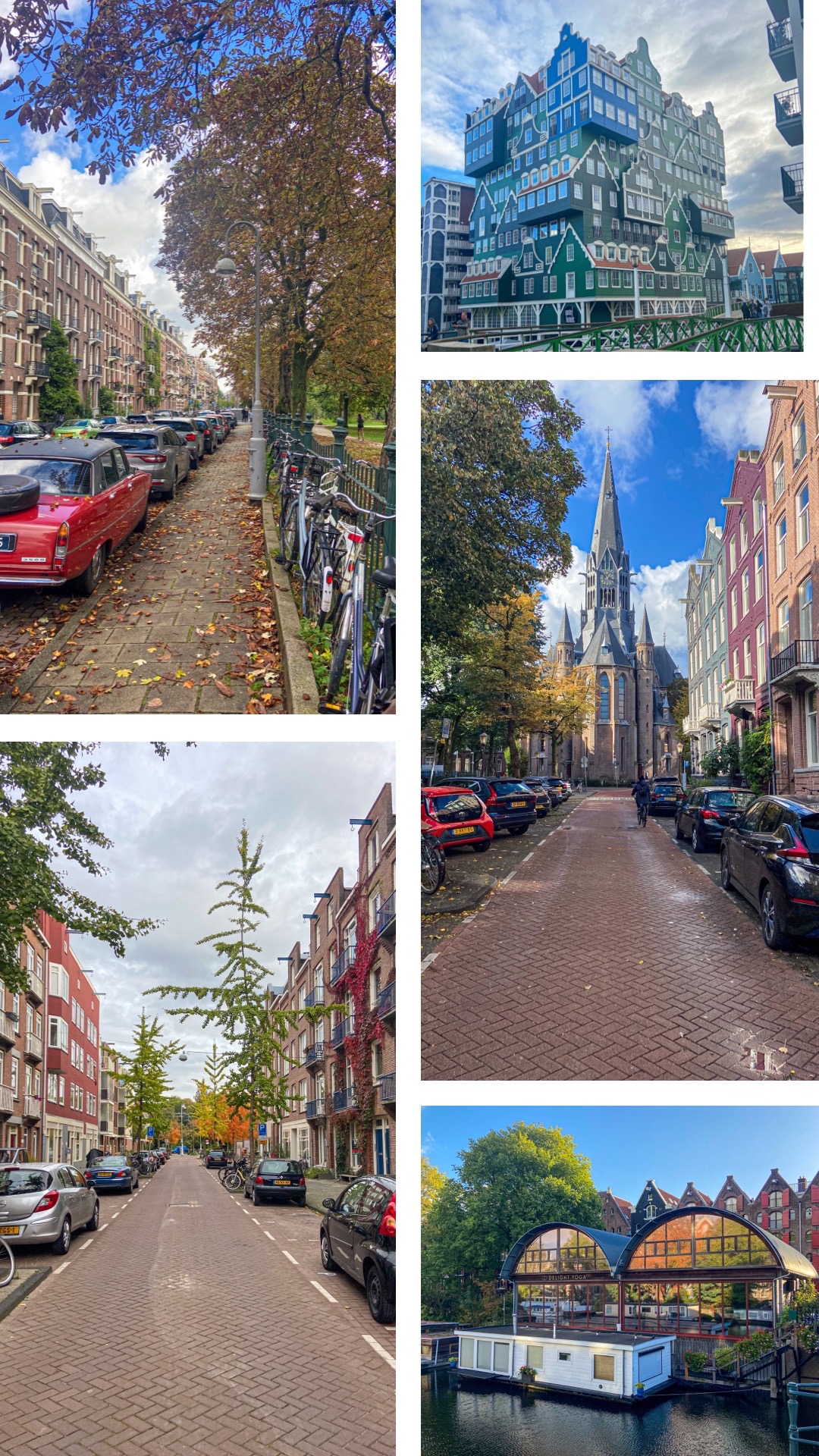 38. The FIRE works
New Years Eve 2022 – somewhere between Midnight and 3 a.m. in the morning I am stuck in the parking garage traffic jam at the beach of Barcelona. How did we end up here? Let`s start from the beginning. Since 2019, when I spent my New Years Eve in Hanoi I put it on my agenda to have as much New Years experiences abroad as possible. It is boring to watch the same fireworks at home every year, isn`t it? And for 2022 the universe told me to watch the fireworks between palm trees.
We drove down from Germany to Barcelona. With a flat tire somewhere close to Avignon. Four hours trying to find a service station that had the right tires on stock. Then we took the ferry boat over to Palma de Mallorca. Second time for Asa on a ferry boat this year. She is a doggy captain now. And I have a thing for ferry boats. We spent seven days on Mallorca. It was very quiet on the island during Christmas time. Perfect weather. Sunny and 20 degrees. Asa could play at the beach again and I could cycle through the mountains. Working from Mallorca felt good too. How do they call it now? Workation?
For me as FIRExplorer these are very luxurious times. The plan was to travel across the world once I achieved my FI number. But Covid lockdowns, working from home and the more flexible working policies made it easier for me to combine traveling across the world with staying employed. In 2022 I have been travelling almost every month. And during the months I did not travel I was living abroad exploring Hungary and the Netherlands. At the same time my net worth increased and my FI date came closer by two years. While I was standing at the beach of Barcelona, with the fireworks over the Mediterrani W, I was thinking to myself: The FIRE works!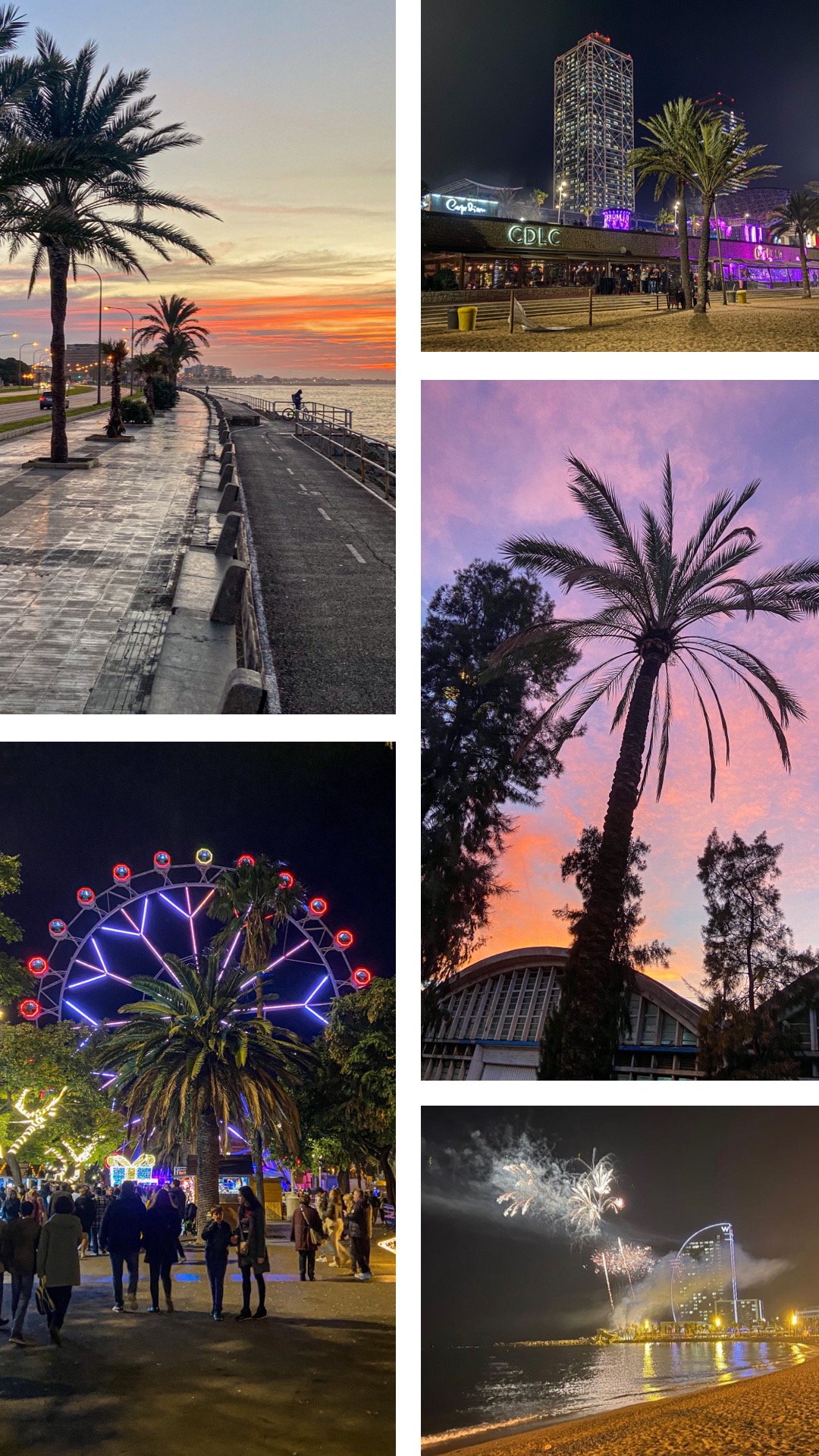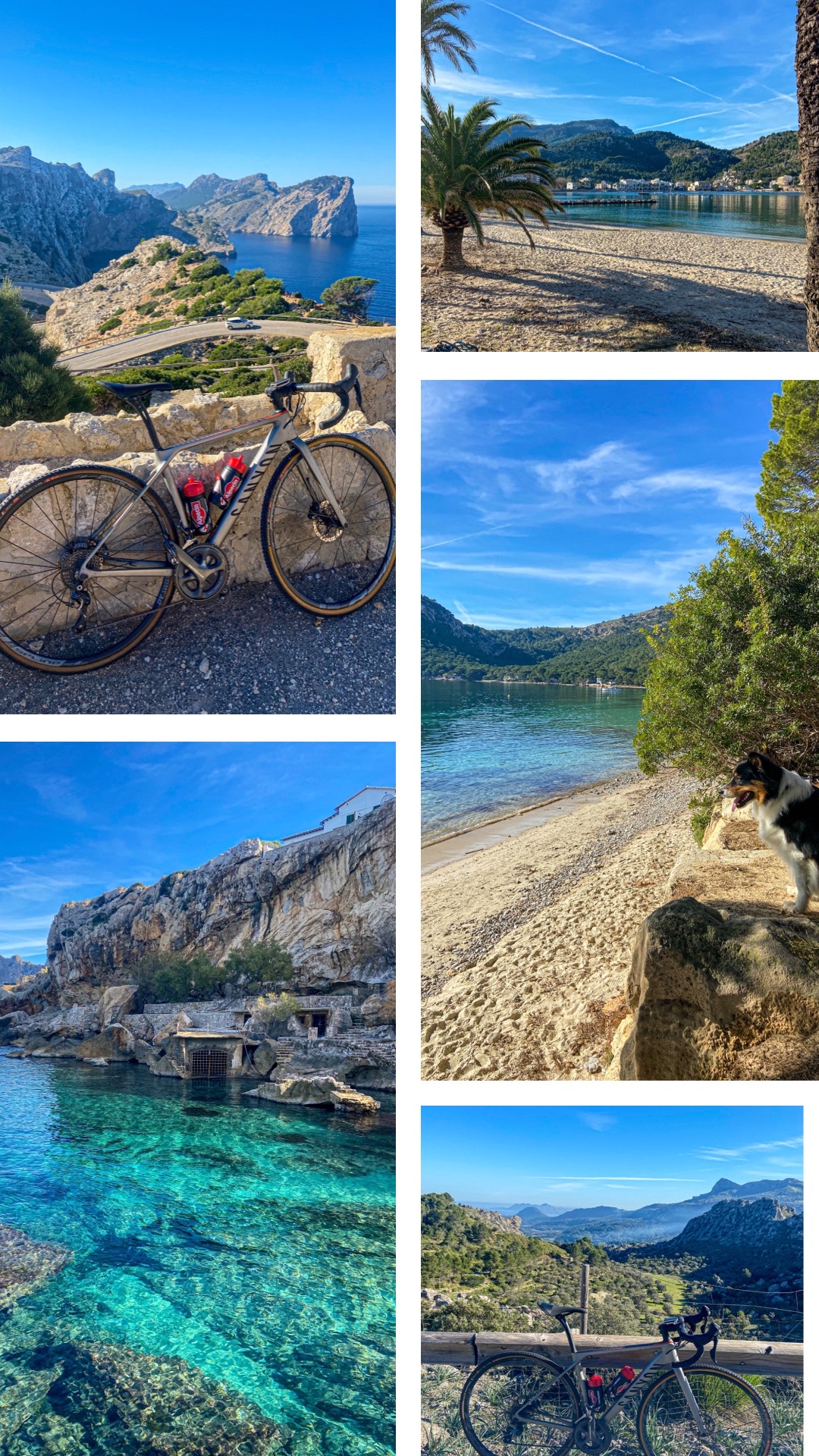 Time to reflect. There is only one constant in life, and that is change. Evolve or repeat. Even though I did not reach my goal for this year, my ultimate goal came closer and I can look back on an amazing year. Just putting together my best-of pictures from this year for the annual highlight reel made me aware of how cool 2022 has been.
From fireworks at the Danube in January to the Amsterdam Light Festival in December. Looking back, it may have been the best year I ever had. And this journey all started with the FI movement. It was never about money or retiring early. It was always about living the best life now and removing everything that is impacting the quality of life.
No matter if it is a soul sucking job, unsupportive people or expensive purchases which don`t add to your overall satisfaction and happiness. Waking up in the morning with relaxing thoughts will always be a priority.
39. The Show(s) must go on
I love live music. During my university and work era I never had a chance to visit festivals or concerts because I was living mostly in rural areas far away from the big cities. Moving to Amsterdam fixed this problem. It is the headquarter of music in Europe. Every big artist or group has Amsterdam on their tour list. In October I got tickets to Machine Gun Kelly, Coldplay and the Chainsmokers.
And then on my birthday I also managed to win tickets for one of the biggest indoor festivals in Amsterdam – the AMF. Martin Garrix, Armin van Buuren and many more. In the sold out Johan Cruyff Arena. All night long. What a cool experience after all these cancelled music acts during Covid. My biggest concert so far. But it just made me hungry for more. As they say: The Shows must go on.
"Lived nine lives, so I guess I got none left,
Spent mine fucked up running down Sunset,
All this anxiety, my stomach got upset,
But we`re not done yet"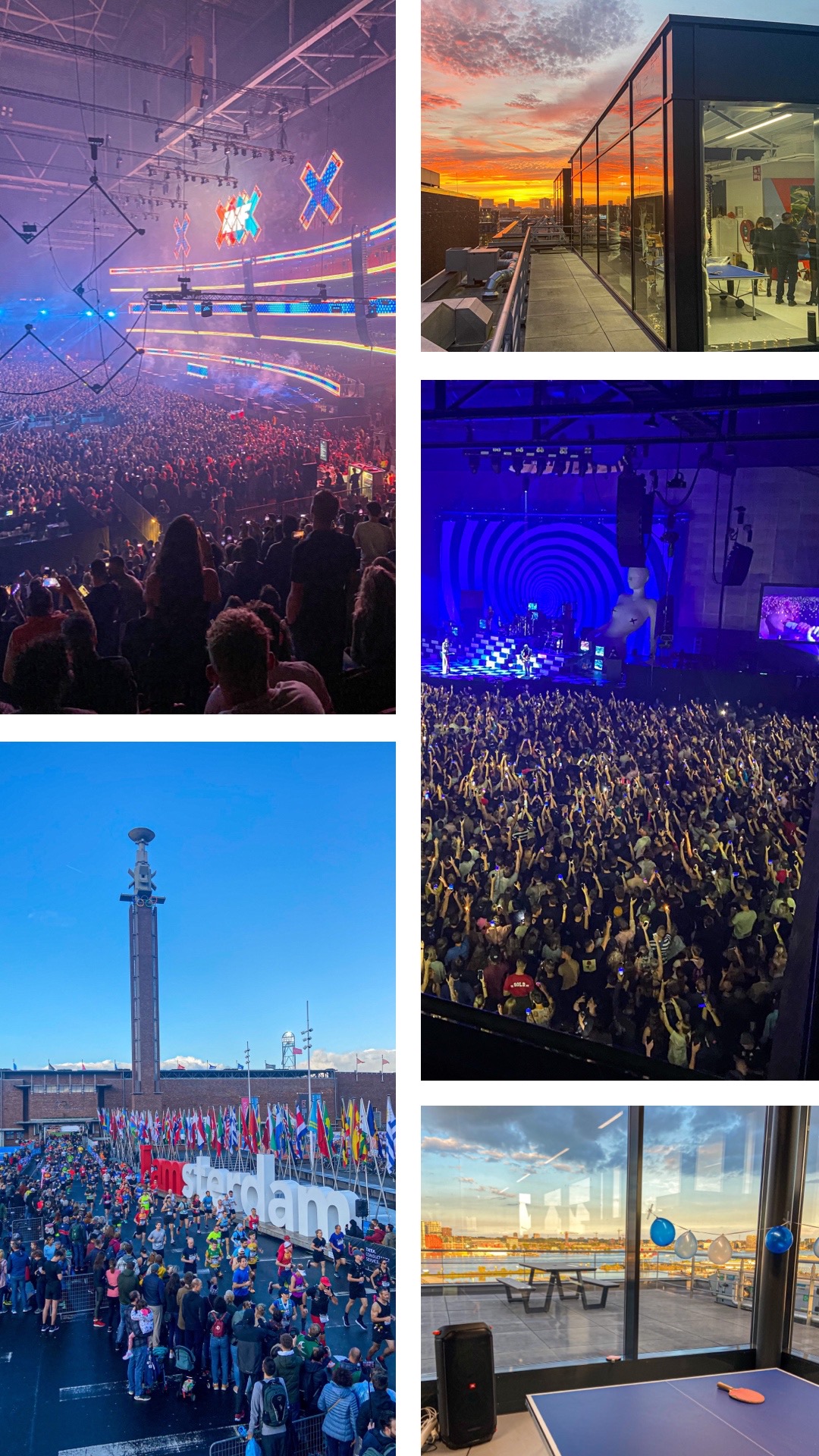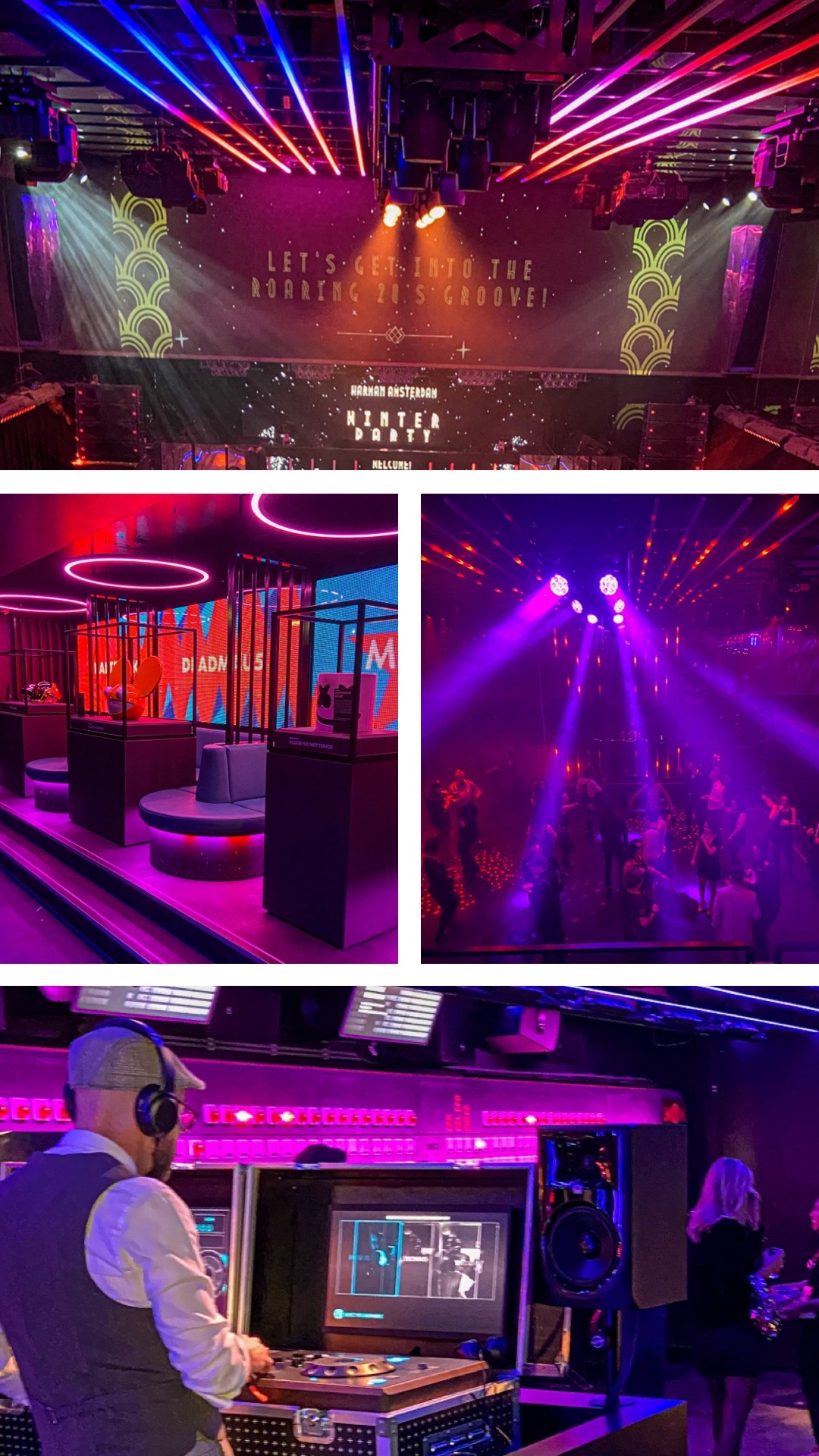 Same month Taylor Swift and The 1975 released their new albums. Both produced by Jack Antonoff. If you ask me which one of their album is better I will not be able to respond. While The 1975 is already breaking news almost every day with their "At their very best tour" across the US and UK, Taylor only yet announced her Eras tour for 2023.
To this day we are still waiting for European tour dates of both artists. And I will make it my life`s mission to get tickets to both of these shows. Then on January 12, during their home concert in the O2 arena in London Taylor came through the door of the 1975 half-house-set and performed Antihero and The City for the first time in history. We are waiting for this union many, many years. There is no doubt that Taylor and Matty will own Year 2023. I have more concerts and festivals on my list for this year. But that`s for another season.
So we had a lot of fun, Xmas parties, fireworks and travels these past months. Time to go back to work. As they say: The Show must go on.
"You`re on your own kid, you always have been"
40.1 The American Horror Story
Back to Work. Back to Emily.
After she got kicked out by Sylvie, Emily stayed with her Chicago boss but soon realized she is not following her passion. So she started to secretly involve herself into projects at Sylvie's new company. After a short term of fun-employment as famous Paris influencer and Sylvie finally overcoming her huge ego, Emily was asked to come back. Everything happened within a few weeks of course. Just like in real life. Happy End, right? Well, we are still at Netflix and they already renewed Emily in Paris for another season, so the writers have to come up with new drama.
But let me go back to the great reunion between Sylvie and Emily. What I noticed was, that at mid-season the show lost its drive and suspension. I don`t remember much from the second half of the season, other than the final shockers and cliffhanger (well, and the strange scene when the designer got hit by a miniature car).
Sylvie and Emily finally working together in their own company. Wasn`t this what we were all looking for? And then again, both of them lost their shine in the reunion. Sylvie is still Sylvie. And as much credit we want to give her, sometimes she can just be a rude and selfish bitch. Does Emily need her? I would rather see Emily do her own thing.
What if the reason Emily was not able to decide between her American and Parisian boss in the first place was never about wanting to do both at the same time. But about not working for any of them at all and being her own boss. Wouldn`t that be the real Happy End?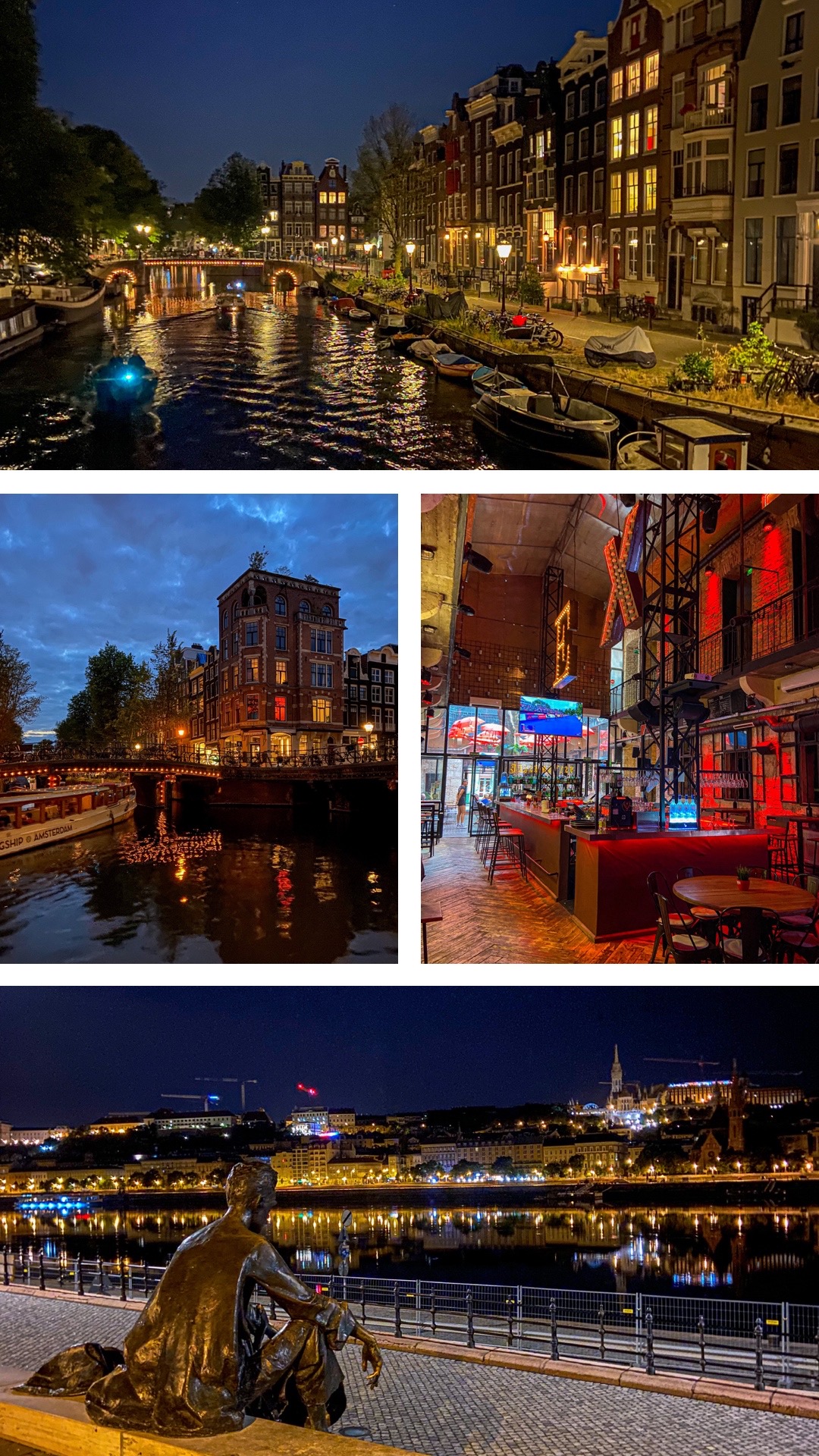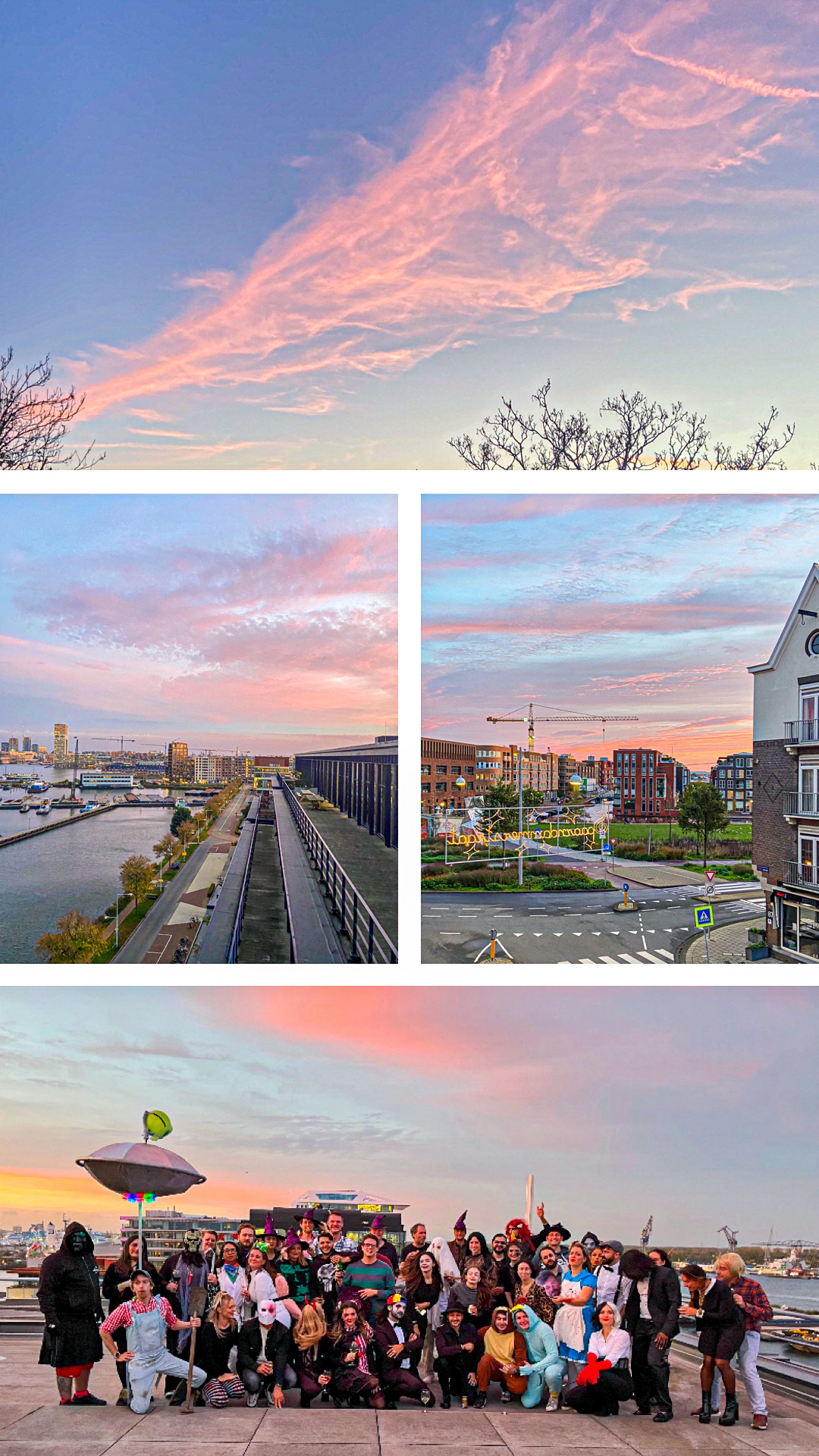 I`m writing this in January. The time of the year when you follow your New Years Resolutions and make decisions for the future. Let`s enter a parallel universe for a minute. Let`s call it Marcus in Los Angeles.
Waking up in the morning at 7am. The sun is shining. Again. He could not find any joy from it. The sun was shining every day. Even on those days he could not see the sun in all the smog. He scrolled through his Instagram feed. Everyone was posting pictures of snowy mountains and Christmas markets. He did not remember when he celebrated Christmas for the last time. Every month is the same season. The same heavy feelings. Never fading away. They never die like fall leaves on trees or get reborn like Flowers in Spring. They just are.
Not in the mood for breakfast. Traffic jam on the way to the office. Sitting alone at his desk. Everyone he used to talk to, left. He scrolls through Instagram again. Looking at stories from Europe. Vacation pictures and parties. He can`t recall his last free day. His boss never stops by the desk. So he walked through the empty hallways to say good morning. He despised his boss. Miserable American boomer. Corporate America. Once he has saved enough he will leave. And never look back.
He eats lunch alone at his desk. More traffic jam on the way home. There is a beach in LA he has not seen for months because he wants to avoid more traffic jams. Dinner alone in an overpriced apartment. A cockroach crawling across the balcony. Once he has saved enough he will find a better place.
Midnight. Time to sleep. The American Dream? Or the American Horror Story? Once he has saved enough, he will leave. And then he was awake. He remembered he already has saved enough. And he asked himself – what the fuck am I doing here?
40.2 The Twin Flame(s)
This final episode of Season IV is a two-piece.
Not all work happens at the workplace. Some work you have to do for yourself and by yourself. The final episode of Marcus in Amsterdam is about to enter the spiritual side of our universe. Have you heard about the Twin Flame concept?
While I do not believe in supernatural theories, the afterlife, astrology, and stuff like being reborn or souls getting split into pieces – I still think every theory and concept has its own psychological background and justification. Stripping away the supernatural part, these concepts can be justified by human experiences. And it is a pretty famous concept, because many humans have experienced these connections in their own life.
"A twin flame is an intense soul connection with someone thought to be a person`s other half, sometimes called a mirror soul. One of the main characteristics of a twin flame relationship is that it will be both challenging and healing. This is due to the mirroring nature of a twin flame; they show you your deepest insecurities, fears, and shadows.
But they also help you overcome them, and vice versa—your twin flame will be equally affected by you."
And while I don`t believe in souls, I still believe these kinds of human connections and relationships exist. There are personality types which attract each other and form connections. The outcome is not always pretty, but important for development and healing of traumata.
Once I finally understood the Twin Flame concept completely, it made me look differently at past relationships. Twin Flames are not supposed to find each other and spend the rest of their life together. Twin Flames find each other because of their polarities (mirroring souls) and form a union for an indistinct amount of time.
The union is about healing of traumata and finding love for yourself. One of the strongest twin flame connections is between the avoidantly attached Narcissist and the anxiously attached Empath. Big words, but basically just describing two different personality types/disorders formed by your childhood and life experiences. Both types are so different from each other, that they are pulled to each other like magnets.
Don`t get me wrong, this union is anything but beautiful and nice. And at the end of the day it is still your responsibility to do the work on your own healing and leave the union before entering a toxic cycle. But after I went through a similar process, I can confirm it is accompanied with immense growth and healing. Once you understand the nature and purpose of these connections, and you are able to see the positive sides of the outcome, you also understand why this Twin Flames concept gained so much popularity.
Like the two blue Twin Flames emerging from the World Trade Center Memorial in New York City shining bright every year on 9/11. Out of the ashes of the terrorist attacks soon rose the bright blue shining One World Trade Center. Reminding us all of how we can overcome everything that is meant to destroy us. To heal and grow into the best version of ourselves and stand tall in our own beliefs. Building our own tower, our own home.
Maybe Sylvie and Emily are Twin Flames too? They are definitely very different personalities which seem to be pulled together by a supernatural force. Now that they are in union, I foresee some drama for them in the upcoming season of Emily in Paris. Probably accompanied by a break up. But wouldn`t that be the best for both of them?
I guess we have to wait for the next season of Emily in Paris again. In the meantime: Let`s work together on Marcus in Budapest – Season 5
---