This post may contain affiliate links. This means if you click on the link and purchase the item, I will receive an affiliate commission at no extra cost to you. Affiliate links are marked with *. All opinions remain my own.
Exploring five days of vanlife on the most scenic road in the world
This may sound strange, but Iceland was never on my bucket list. I have not heard of the Ring Road before 2019. The only things I knew about Iceland was: Reykjavik is the capital and there is a volcano Eyjafjallajökulll which caused an airplane chaos some years back.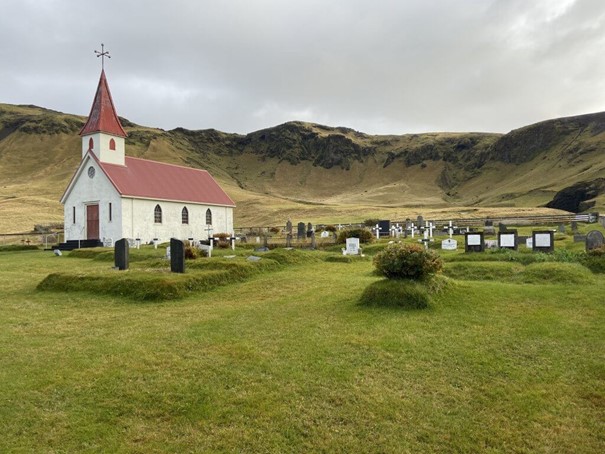 As I´m active on Social Media, I saw a lot of pictures from the icelandic landscape without even realizing that those pictures were taken in Iceland. So, when I decided to go short notice on a short trip to Iceland in September/October I was not really excited. But, as usual, I did plan my trip extensively upfront. And I got overwhelmed with possibilities and anticipation. Actually, no trip in 2019 left me with so much excitement upfront. Not even my three-week trip through five countries in Southamerica.
Coming back from Iceland, let me tell you this anticipation was completely justified.
The road has been planned by just connecting dots from one sight to another
My decision to go for a camper van instead of staying at a hotel turned out to be the best decision I could have made. I definitely was not alone with this decision though. To fully explore this beautiful country, you need to be as independent and free of choice as you can be. A camper van is perfect for this. Even though wild camping is not allowed in Iceland, there is always a close campsite to spend the night.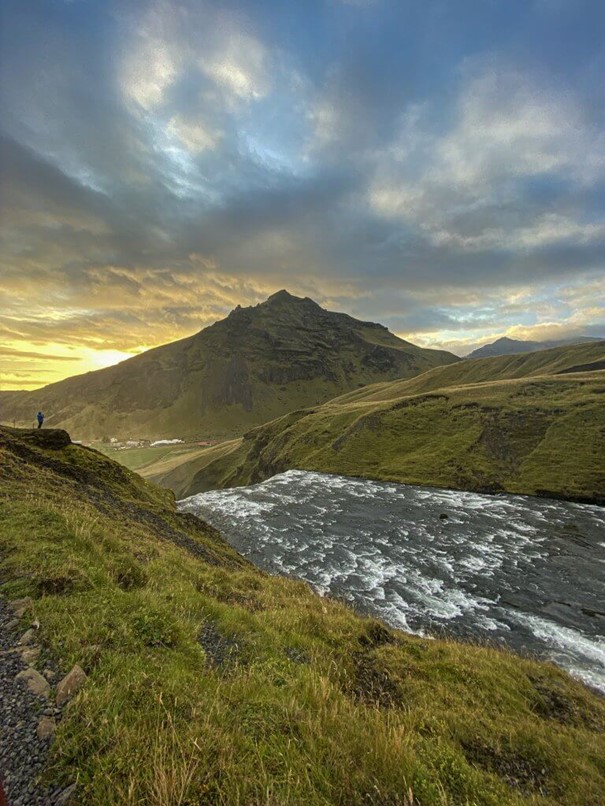 And you will get the chance to travel along the legendary Ring Road. This road basically connects all famous tourist attractions and also hidden places around the whole country. To me it seemed as if the road has been planned by just connecting dots from one sight to another. After five days and over 2.500km on the road, I´m convinced this is the most scenic road in the world.
But let´s start from the beginning.
Day 1: South Iceland* and Aurora Hunting
As usual my trip started at the airport. I set myself a tight schedule, so I did head directly for the car rental. Upfront I reserved a two-person camper van with rent.is. It turned out to be a VW Caddy converted into a camper van. Which was exactly what I expected. After adding some additional insurance (Iceland has fancy gravel roads all over the place, you should always go for full coverage) I was ready to start.
As for any good road trip, a good sountrack is key.
I also invested in a mobile wifi* which turned out to be a lifesaver. The wifi was working everywhere and provided me with navigation on the road, access to all sort of information and netflix at nights. It is perfect if you spend all your time in the van. Also you do not have to rely on any external wifi connection at gas stations or campsites.
As for any good road trip, a good sountrack is key. So I also brought my mobile speakers* and three powerbars. I was prepared for everything except the endless beauty of the icelandic countryside.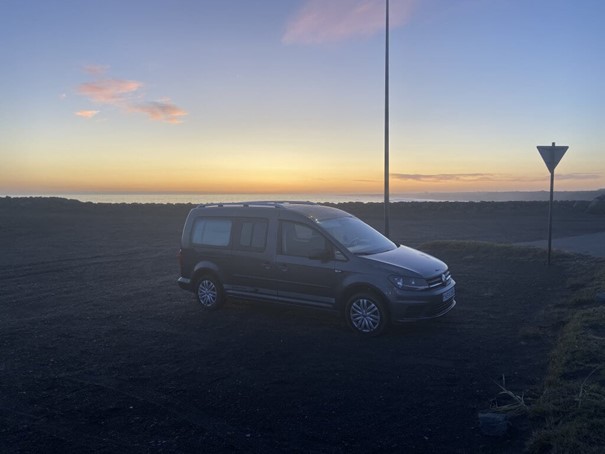 I was left in awe just leaving the airport and the Reykjavik area. The nature was as you would except it somewhere in Canada. As it was almost October, it had this epic Indian Summer feeling. I already knew this trip was a good decision before I had reached the first point on my highlight list.
Standing before this waterfall was impressive. And wet. But mostly impressive.
There were no big plans for the first afternoon. Two hours on the road and two waterfalls. The first one was Seljalandsfoss. As it is close to Reykjavik and due to the fact that you can walk behind the waterfall it is pretty famous with tourist groups. As is waterfall two. The mighty Skógafoss. There is nothing special about it than its pure power. You can walk right into the waterfall. If you dare. Standing before this monstrous waterfall was impressive. And wet. But mostly impressive. I came back to Skógafoss on Day Four as there is a campsite just next to the waterfall which allows you to wake up with incredible views.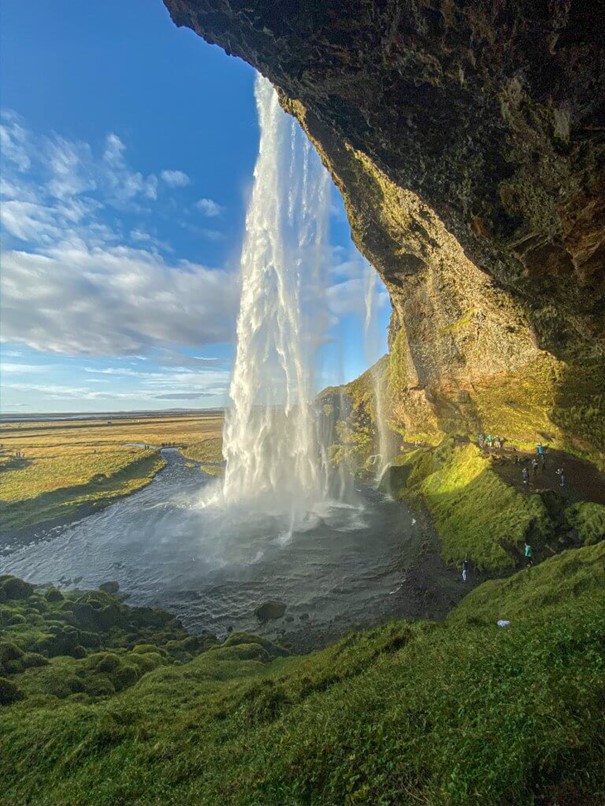 The sun was already setting, so I had to make a decision on the campsite. As I was notified upfront by the Aurora app the weekend would be perfect to spot the Aurora Borealis, I was left in the Hunting Mode. The campsite I had planned to stay on would be clouded that night – so no Northern Lights. Which left me driving almost all the way back to Rejkyavik. And I did see no Northern Lights at all.
As I got tired I did head for a campsite. Just when falling asleep, the first lights appeared. Seeing the Northern Lights was never on my bucket list. But it should have been. It made this first day in Iceland perfect. A lot more perfect days should follow.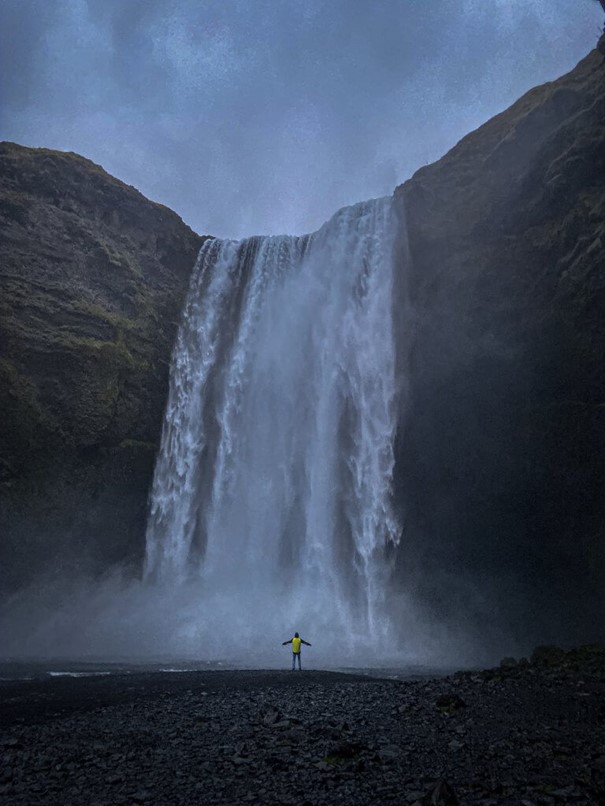 Day 2: Long Rides, many surprises
On the next day I woke up early. All the hunting of the Aurora Borealis had put me behind on my tight schedule. The first stage took four hours of driving with constantly changing weather conditions. It is amazing how fast the weather changes in Iceland. In a couple of minutes you go from a foggy, rainy day into almost summer like conditions and back to snow. It is nothing special to explore all four seasons in one day in Iceland.
So this one was more or less a chilly ride.
The first stop was a famous one. The Fjaðrárgljúfur Canyon. Which was featured in the HBO series Game of Thrones and gained a lot of tourist attraction recently. To get there I had to face my first icelandic dirt road. I will talk about some pretty annoying gravel roads later, so this one was more or less a chilly ride. Even though is was cold and rainy, the parking was full and a lot of tourist were already at the canyon. It is a nice to see, but if you know the pictures upfront you won´t be overwhelmed by it.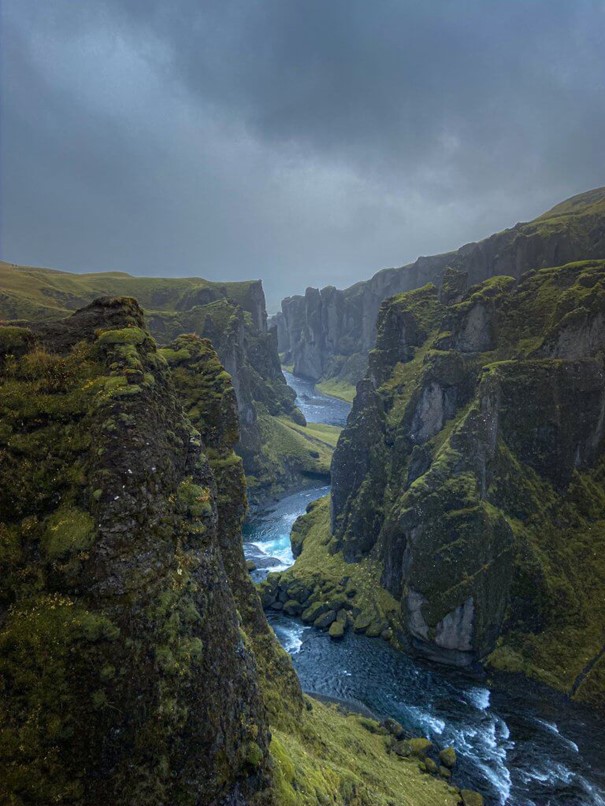 My next stop were the glaciers at the Skaftafell national park. There are a lot of possibilities to spend time, i.e. attending a glacier hike* or visiting the caves inside the glacier. As I did face some time issues (did I mention my tight schedule yet?) I only did a quick hike to the Svartifoss waterfall.
For all Lord of the Ring fans – it looks a bit like Mordor.
After half an hour of climbing I reached this uniquely looking waterfall. It appears to be a huge church organ spitting water. The surrounding area and its vegetation is very special. Sometimes I wasn´t sure if I´m still on planet Earth. On my way back I did get a panoramic view over the glaciers and the huge vast valley beyond. The view is hard to describe; for all Lord of the Ring fans – it looks a bit like Mordor.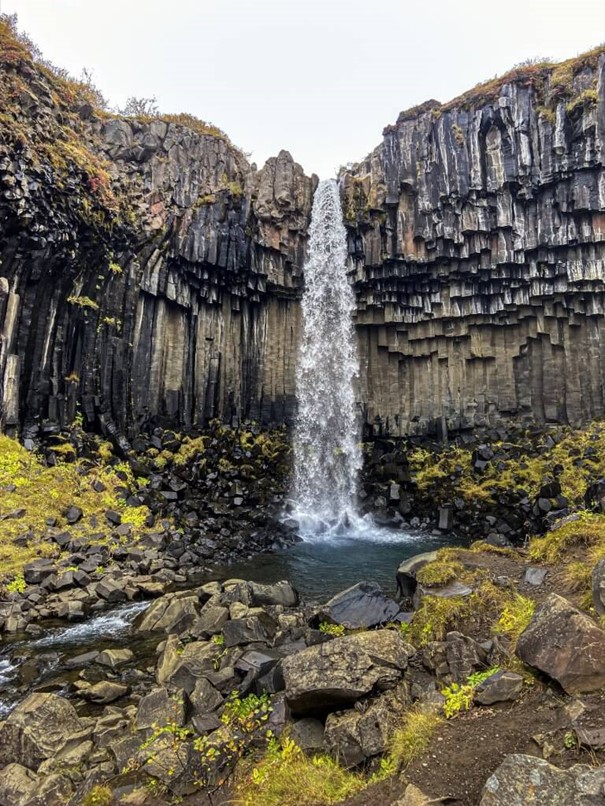 The next stop would lead me to the Diamond Beach – a huge glacier lagoon with beautiful icecones all over the place. You can just walk there and touch those tiny icebergs! I had left the Southern part of Iceland and was almost in the North. My plan was to turn at the Diamond Beach and head back to discover the other side of the island. It was never my plan to travel the full Ring Road until this moment at the Diamond Beach. More or less spontaneously I switch plans completely. And did head further North.
What a stupid thing to do…dismissing all plans just because of one picture you saw on Social Media.
Why? Because I saw some pictures of a church in Seydisfjordur with a beautiful colored way leading to the picturesque building. What a stupid thing to do…dismissing all plans just because of one picture you saw on Social Media. But it turned out to be the best decision I could have made. I did not know about it, but the North of Iceland is even more beautiful than the South. And there are way less tourists. Sometimes it seemed as if I was the only one travling there.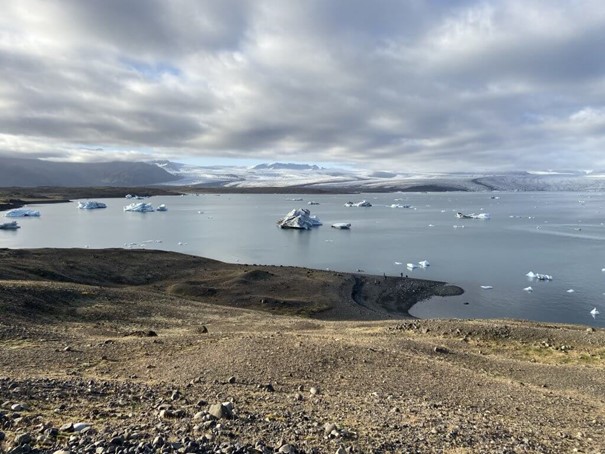 But from plan to reality can be a challenge. I faced a six hour drive to Seydisfjordur and the sun would set in four hours. If you have ever been to Iceland you know that a one hour drive usually means two hours. Why? Because you are stopping all the time! The landscape is just to beautiful not to stop and gaze. It is not possible!
Driving through ten different countries, at least.
I did stop as less as possible (which was about two or three times per hour). This left me with a beautiful sunset ride at the Northern coastline. The vegetation changed constantly. I was driving through ten different countries at least. From the green grazes of Ireland to colorful Indian Summer forests of Canada, from mountain landscape as in the American Rockies to deserted valleys Moroccan-lookalike. I was not able to grasp how fast this country changes its appearance. The coastline remided me of another legendary road – The Pacific Coast Highway in California. Then it turned into fjords as you would expect them in Norway.
With the last sunlight, GoogleMaps decided to send me on a shortcut. Which turned out to be a heavy graveled mountain pass with 17% gradients for over 15 kilometers. No fun at all with a heavy camper van. No fun at all after already ten hours on the road. And definitely no fun at all in darkness. But I survived.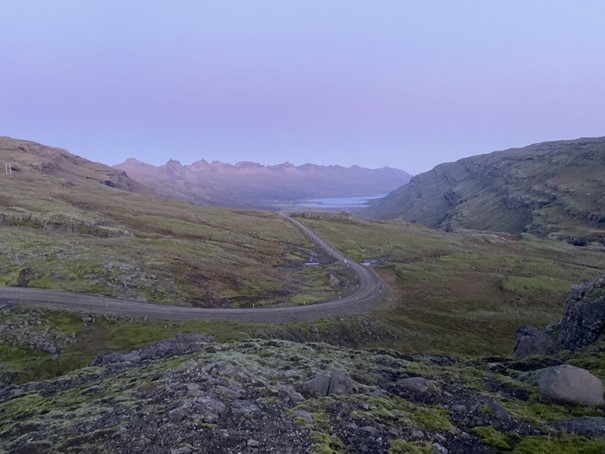 I arrived at the campsite in Seydisfjodur at night. Of course I checked out the church. Was it not the reason I went there in the first place? I was surprised with some more Northern Lights. The second night in a row. As you might assume, I did not sleep too much that night.
Day 3: The Land of Ice and Fire – North Iceland
Waking up at day three I had completely thrown over board all of my plans and found myself at the other side of the island. As I had a flight to catch in two days, the plan was to head back. The final destination should be Snaefellsnes Peninsula – almost 700km and 8 hours of driving ahead. With several planned and countless unplanned stops in between. Just a usual day on the Ring Road.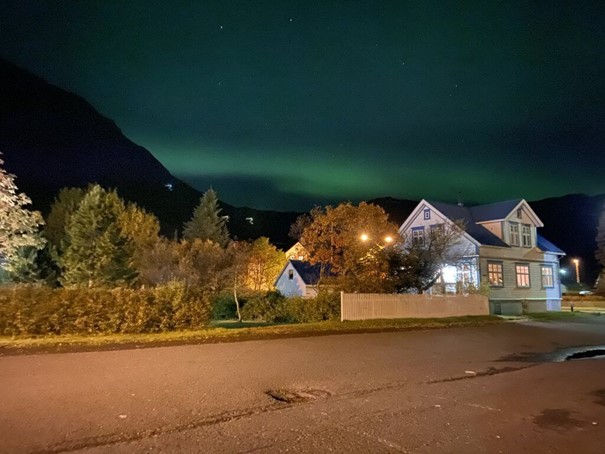 I left Seydisfjodur the same way I came (actually there is only one way to leave if you don´t own a ship). Over a mountain pass. It was only a couple of hundred meter altitude, but the area reminded me of the high alps. The only thing missing were those ugly ski resorts.
If you like waterfalls, Iceland is your place to go.
As I never planned to visit the northern part of Iceland, I did not except what was ahead of me. If you don´t except something, your experience usually is way more profound. That was exactly the case for me. There was a huge valley with mountains shaped like at the Monument Valley in Utah/Arizona. Except the surface was covered with frost. I called it the Frozen Monument Valley. I won´t add a picture because no picture can show how beautiful this area was. I did stop at some more waterfalls. By the way, if you like waterfalls Iceland is your place to go. They were unique and beautiful as every icelandic waterfall. With one addition. At some of them I was completely alone. No tourists. Just me, myself and I.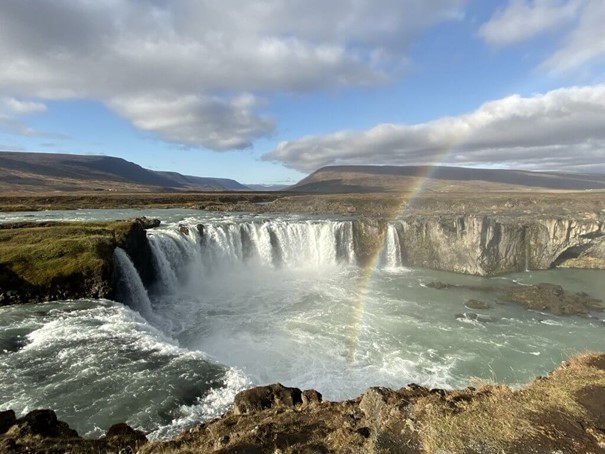 I passed a lot of hot springs, the incredibly scenic lake Myvatn surrouned by vulcanic craters and idyllic landscapes. I visited the Godafoss, which looked like a miniature Niagara Falls. I stopped at the most scenic parking lot I have ever seen. GoogleMaps added at least 50 kilometers of additional gravel roads. And I arrived at Kirjufellsfoss just before sunset. Perfect timing.
Kirkjufellsfoss is another set of Game of Thrones. So the tourist crowds were back. While taking pictures I was surrounded by at least thirty photographers with tripods trying to get the perfect shot. (The pictures on my smartphone did not turn out too bad as well)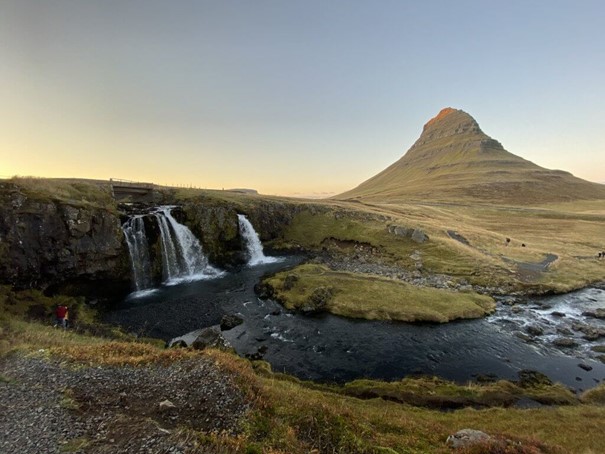 You never know what might be waiting for you out there!
I did not stay for too long and decided to end the day my day at the next campsite. I already did park my camper van at the campsite, but then decided to go for another stroll since the light was just too perfect. I saw this one church on a hill from far away. It was windy, freezing cold and there was a frightening dog barking at me all the time. But it was so worth it! So, make the extra mile, don't settle. You never know what might be waiting for you out there!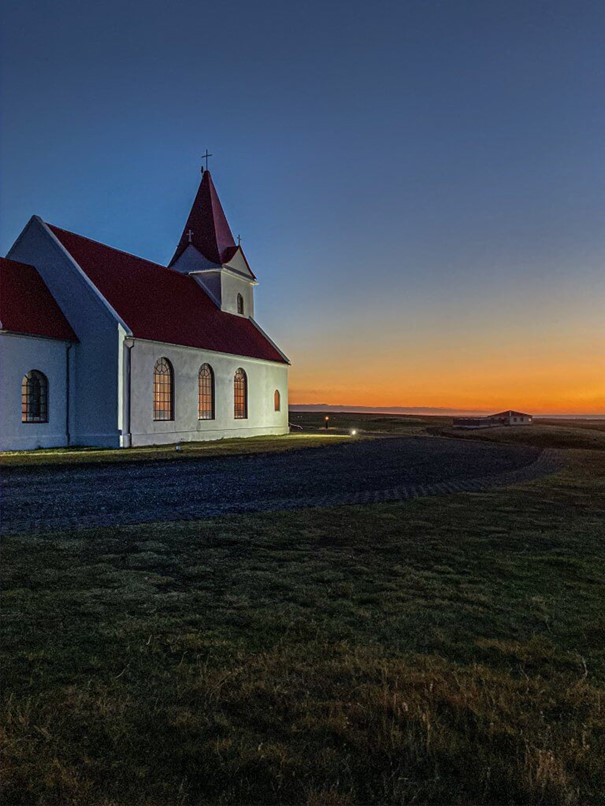 At night I watched some more of this notorious Aurora Borealis. The third day in a row. Is this usual?
Day 4: Snaefellsnes Peninsula* and Golden Circle
I was back on track and still had two days left to cover the highlights I had put on my list. This time for real. Starting from Snaefellsnes Peninsula I headed to the Golden Circle. The first stop was at the Thingvellir National Park. At this national park the northamerican tectonic plate encounters the eurasian tectonic plate. Which allows you to actually stand in between two continents. The landscape is marvellous and you can at least spend a couple of hours or a full day there.
My next stop was the Geysir. Of course, when in Iceland you have to visit at least one Geysir. It is some bucket list kind of thing. I did a little hike to see the Geysir from the top as well. The smaller geysir called Stokkur is usually erupting five to six times per hour. So you have a fair chance to see it. But don´t expect too much.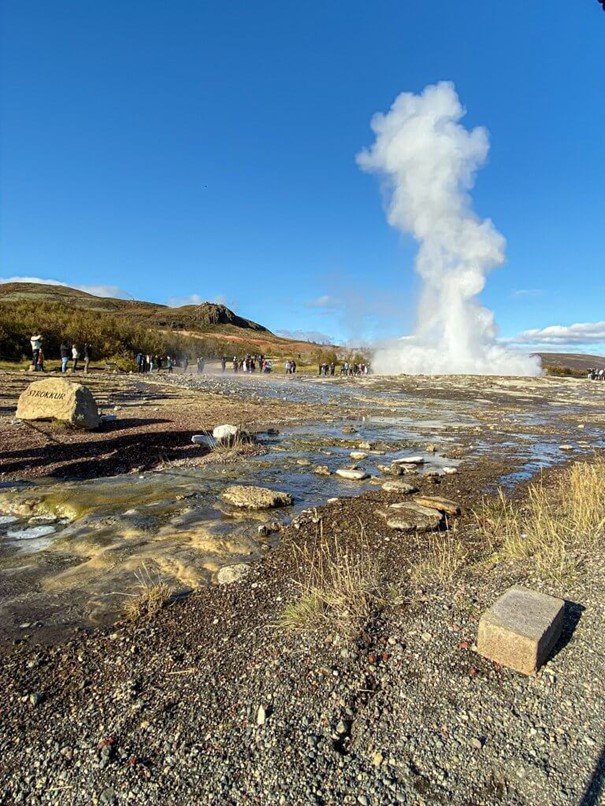 The Golden Circle* is a famous tourist route, starting with the Thingvellir National Park, on to the Geysir and finishing at the Gullfoss. Another huge waterfall. I could write an article just on Icelands waterfalls. The views on those massive waterfalls do never get old though.
Sleeping with the soothing sound of falling water.
From one waterfall to another, I headed straight back to Skógafoss (facing some more nasty gravel roads). The main reason for this was another famous photostop. But that was on the list for Day Five. At the Skógafoss campsite I was able to take some shots of the waterfall without any tourist photobombing them. I parked my campervan close to the waterfall, sleeping with the soothing sound of falling water. As it was a cloudy night, no Northern Lights for the fourth day in a row.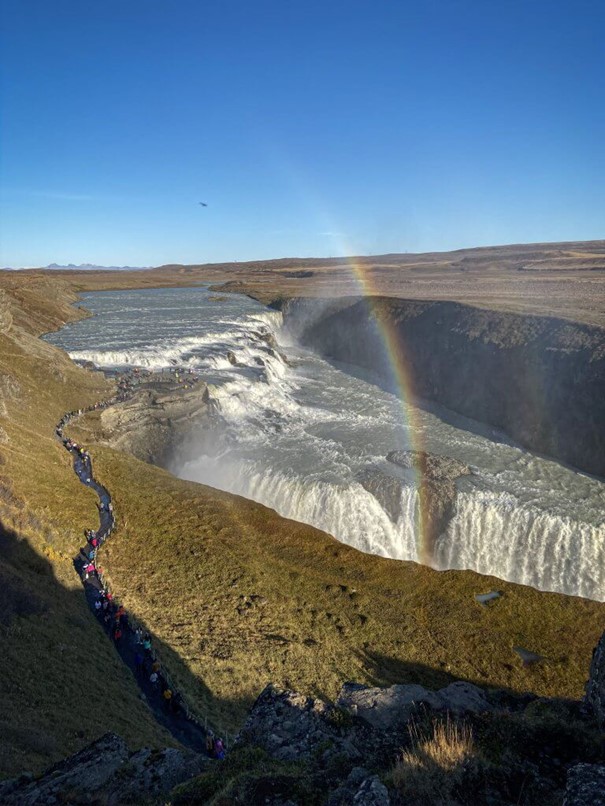 Day 5: Coastline and Reykjavik
The last day in Iceland would be another long day. My flight back was at 1 am in the morning. So I had the full day left before heading to the airport.
You can take amazing pictures at this place. But you have to earn them.
The first stop was a guilty pleasure. There is a deserted plane wreck at the coastline, close to the Skógafoss site. Due to Social Media it is a famous tourist attraction. You can take amazing pictures at this place. But you have to earn them.
There is no way to drive to the plane wreck and the parking is far away. You have to walk for almost one hour in the blistering cold to get there. And for another hour on your way back. There is a shuttle running from 10 am, but where is the fun with that? Also I wanted to be there as early as possible to avoid any crowds. Turned out I wasn´t the only one. At 8 am the parking was full and people were already on their way back. It wasn´t too crowded when I got there and honestly the pictures even look better with some people on it.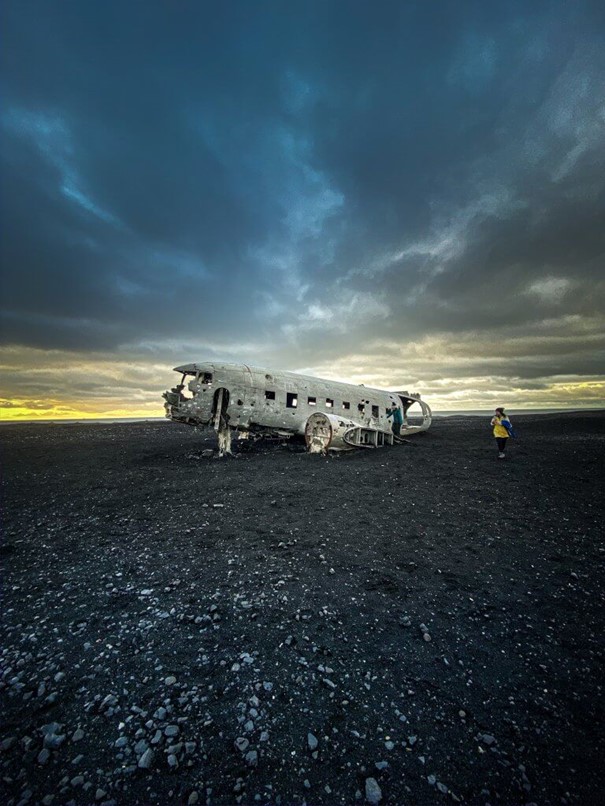 I did cover the one hour walk in fourty minutes, so I had gained some additional time. Which left me heading to Reynisfjara Beach. An endless black-colored beach surrounded by strange looking cliffs. It was still cloudy which added a lot of mood to the pictures. There was a photoshooting going on when I arrived. So I managed to get some shots with a women in a long grey dress running down the beach. I don´t think she enjoyed it as much as all the photographers did. The dress looked quite light and it was still freezing cold. Seems every job has its pros and cons.
It´s not possible to see as much by staying at one place.
Two highlights done, what was left? Of course – Reykjavik. I did drive through some smaller and a few bigger towns on the Ring Road. But Reykjavik was basically the only city I visited in Iceland. Of course I started my trip at the iconic Hallgrims church. Then I just walked aimlessly across the city and had the first coffee for days. You can spend your days well in Reykjavik. But I was glad for my decision to travel on a camper van instead of staying at a hotel. It is just not possible to see as much by staying at one place.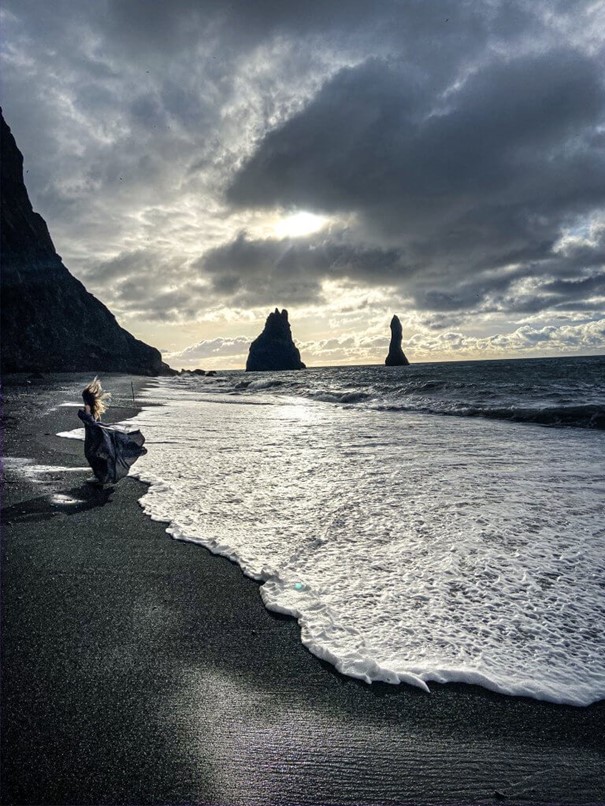 Do you know Langoliers?
Before returning the camper van I stopped at the Blue Lagoon, an open air hot spring spa with a fancy blue water color. Thermal baths are all over the place in Iceland, but this one is the most famous. After I hurtfully separated myself from my mobile home I did spend some hours at the small airport. Which was a highlight as well. The airport is modern, with a beautifully colored interior, surprisingly comfortable and not crowded at all. As my flight was in the middle of the night I basically was alone at the airport. Which was a bit spooky. Do you know the Langoliers movie? I had some déjà-vu.
The end
If you made it this far – I´m impressed. And I hope you are as impressed as I am by this beautiful country called Iceland.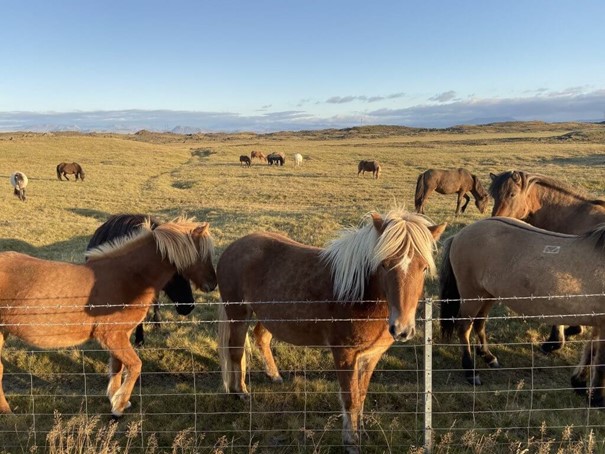 Stop it. Choose Iceland.
Looking back I still can´t believe how many highlights were packed into just five days of travel. I can´t think of any other country where you can explore more diverse countrysides, weather/season changes and geological/natural sights than Iceland. Combine this with an amazing chance of having a glimpse at the magnificient Aurora Borealis and you will come to the conclusion that Iceland may be one of the best travel destinations out there. I´m probably not the first one you heard this from. So, if you are still struggling with the decision on a travel destination for your next holiday. Stop it. Choose Iceland.
---
*This post contains affiliate links , meaning if you book or buy something through one of these links, I may earn a small commission (at no additional cost to you!). Affiliate links are highlighted with *.